Tasty holiday appetizers are always appreciated when you are entertaining guests, and it can be very rewarding when you hear your guests commenting on how nice your appetizers are.
The great thing about appetizers is the fact that many of them are so easy to prepare, hey we got better things to do right… that bourbon eggnog isn't going to drink itself! Check out these simple and delicious appetizers that are guaranteed to impress your guests and please any palette.
1. Red Pepper Straw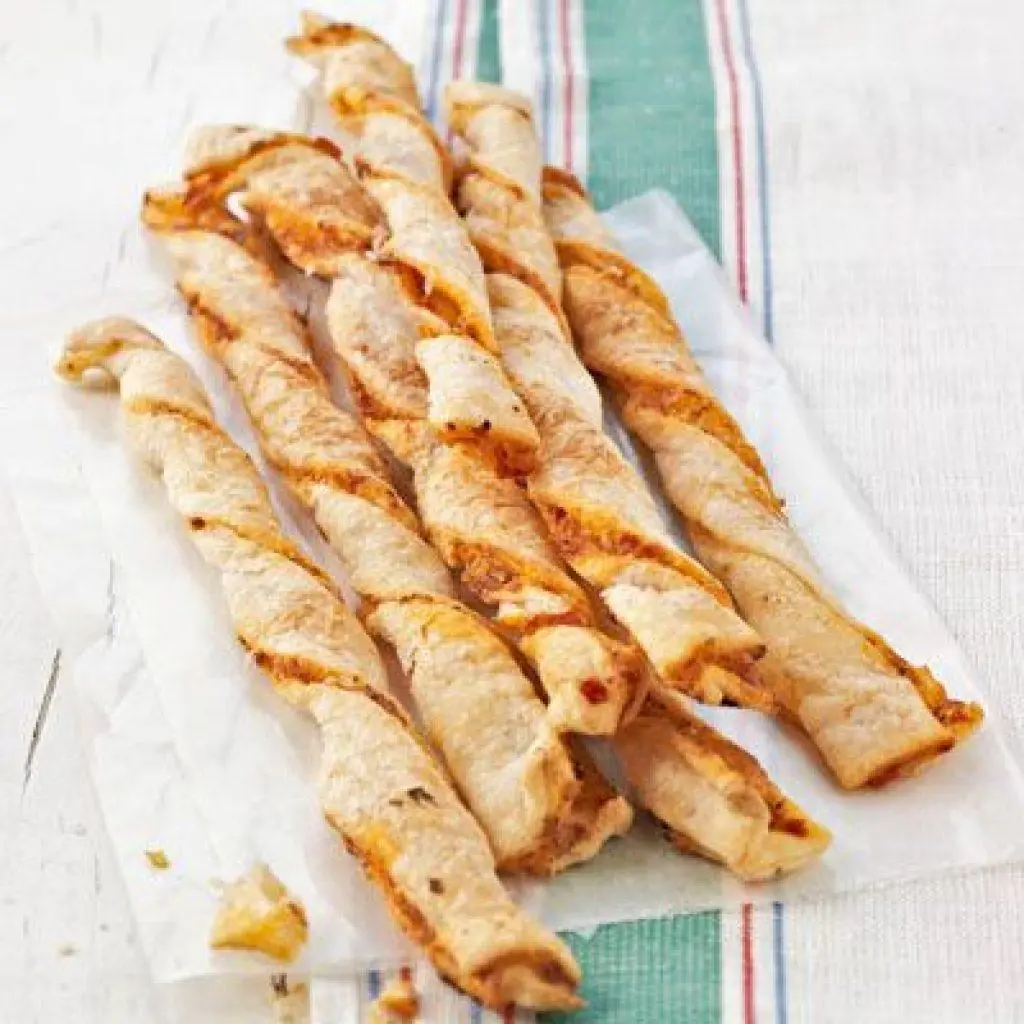 You can prepare a bunch of these in under one hour, but don't expect them to last an hour. With shallot, roasted marinated red pepper and grated Parmigiano-Reggiano, these Red Pepper Straws are seriously addictive.
2. Crispy Loaded Hasselback Potato Bites
Trust me; these are another champion in the world of appetizers. They are super delicious and super easy to make. If you are making these Hasselback Potato Bites as an appetizer you need small potatoes no bigger than two inches across. Slice; bake; load with cheese; bake, and then top with sour cream; crumbed salty bacon and finely chopped green onions.
3. Salami & Cream Cheese Roll-Ups
A mouth watering combination of salami; cream cheese, and green pepper, served on your favorite crackers. To make these you will need the above ingredients, along with some plastic wrap and a rolling pin. These are best made the day before because your initial sausage-like roll needs to be left in the refrigerator for at least 5 or 6 hours, or preferably overnight. You can get the full recipe for these very kid friendly holiday appetizers with instructions here.
4. Pigs in Blankets
These are super easy to make, and in just forty minutes you can have 60 little piggies wrapped in their blankets, waiting to be devoured by your hungry guests. Pigs in Blankets are a perfect appetizer for any occasion, and they are enjoyed by children and adults alike.
5. Lemon Goat Cheese Dip with Crackers
This refreshingly zesty dip only takes a few seconds to prepare, and it is packed with goodness. Serve with your favorite crackers, or any other crispy snack of your choice. Trust me; your bowl of dip is going to be empty before you even know it. Get the recipe here.
6. Greek Inspired Meatball Bites
These amazingly delicious Greek Style Meatball Bites are a definite crowd pleaser. They are easy to make, and you only need seven ingredients. Find the recipe on Pillsbury.
7. Fried Tomatillos with Cream Cumin Dip
These crumbed treats are insanely tasty and they will definitely get you several compliments from your guests. There is no doubt that the cumin kicks the dip in this recipe up a notch. Find the recipe with easy to follow instructions here.
8. Garlic Butter Steak Bites
These might not appeal to vegetarians, but all your steak loving guests are really going to dive in when you place these down in front of them. Served up on cocktail sticks makes this appetizer recipe one you will keep going back to time and time again. Grab the recipe from Dinner at the Zoo.
9. Quick & Easy Corn Fritter
Corn fritters are probably one of the easiest appetizers to make, and they are so incredibly versatile because you can try adding an almost endless amount of different flavors. The fritters in this recipe are just good old fashion corn fritters, but feel free to add in some finely chopped red chili to spice things up a bit.
10. Caramelized-Onion and Gruyère Tartlets
These are easy to make; they are wonderfully tasty, and they can be made ahead of time because they frozen cooked or uncooked for up to two months. As with many appetizers, these Caramelized-Onion, mushroom and Gruyère Tarts can be customized to make them even more delicious than they already are, and to give them a unique personal touch.
11. Cheese Platte
While a cheese platter may sound like an easy out option, you will be surprised at just how popular a well thought out cheese platter can be, particularly if it is accompanied by a few different breads or bread rolls. Have a look at this and you'll instantly agree that it is a great appetizer idea.
12. Mini Chicken Salad Tart
Too pretty to eat Chicken Salad Tarts will leave your guests absolutely mesmerized, and that's before they even try them. To save time, you can use store bought frozen mini phyllo pastry shells rather than preparing your shells from scratch. You can also use store bough chicken salad to save even more time. Trust me; your guests won't even notice. These great tasting snacks get taken to the next level with thin slices of mango.
13. Crab Cake Hush Puppie
These Crab Cake Bites are going to get eaten faster than you can make them, but thankfully they are incredibly quick and easy to make. Using beer in the batter is the option of choice, but you can use soda water instead if you wish. You may even want to consider dividing your batter into two, and then adding some finely chopped red chili to one batch so that you end up a spicy batch and a non-spicy batch. These are best when served with a nice cocktail sauce or with a good dip.
14. Baked Ravioli Bites with Marinara Sauce
These crispy crumbed ravioli bites are light and delicious, and you only need four ingredients. They can be served straight from the oven, or they can be served cool along with your marinara sauce, or any other suitable sauce for that matter.
15. Quick & Easy Cheesy Dream
These quick and easy cheese dreams are always popular at parties or any event where appetizers are required. So be sure to make enough of them. You can get these prepared the day before and then keep them in the fridge overnight ready for baking the next day, or you can freeze them for 3 weeks. Sharp cheddar, dry mustard, heavy cream, egg and ground pepper; how could anyone resist the temptation.
We have enjoyed making a number of these holiday appetizers over the years. Finding ways to make something simple or into something new and unique is really exciting for us. Plus when our kids go, yummmm we know we've found a winner. And yes… we may have made a few of these for dinner a few nights! We hope you find a few you might like and pick for your table this Holiday Season!