This post may contain affiliate links. See affiliate disclosure here.
Everyone loves a good cake during the holidays, often times its the star of the event! I can remember trying my hand as a child to make these funny looking Easter cakes complete with dyed green coconut, giant marshmallows and jelly beans. I don't think they ever came out looking nice, but they were so much fun to make and tasty of course.
This time, I thought I would spare you my Pinterest fail and share some totally adorable Easter bunny cakes that might inspire you this season to dig deep into your awesome baker self and get creative!
1. The Bunny Face
This sweet carrot cake made in the shape of the Easter bunny himself is totally fun and not creepy at all- which is all I can remember of the cakes my mom attempted. From Scrappy Geek. Make your own bunny cake face with this Mold from Wilton.
2. The Pull Apart Cupcake Bunny
This bunny pull apart cake is so cute, I hate the thought of taking him apart piece by yummy piece! From Land O Lakes.
3. Down The Rabbit Hole
OMG this cake is to die for!! It reminds me of those tiny food shows on youtube. It is so gorgeous and clearly nothing even close to something I could begin to make, but if you are a fondant king, then go for it!! So much awesomeness here. From Sugar Hero.
4. Springtime Bunny Cake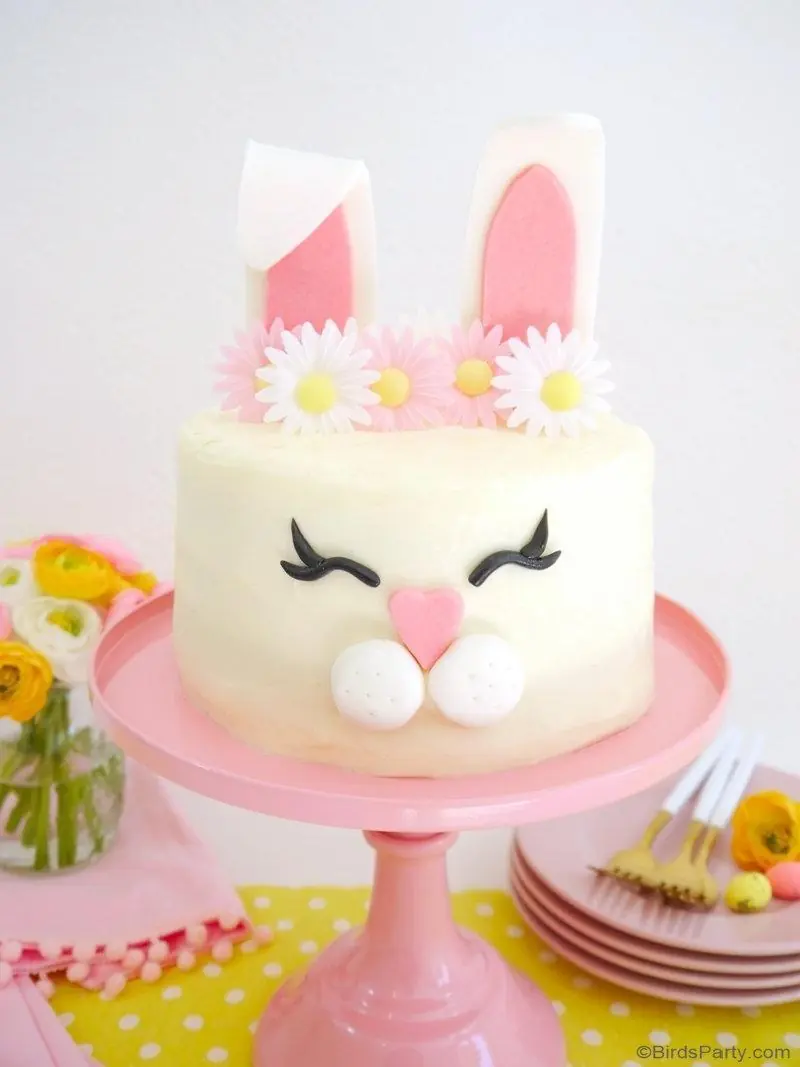 This bunny cake face ideas is simple and perfect. It looks like spring and a happy bunny- what more do you need… oh yeah, its cake! #Yum! From BirdsParty.com. If its your turn to host Easter brunch this year, take a close look at adding this adorable cake to your line up!
5. Spring has Sprung on Bunny Cake
I have no idea what type of cake this is, but wow it is beautiful and so delicate looking! Another level of creative complexity I should not attempt, but I wouldn't hesitate to eat it! From SugaredProductions.com
6. The Ombre Easter Cake
This cake is almost too pretty to eat! I love the colors and design and of course, the tradition chocolate Easter bunny sitting on top! From Preppy Kitchen.
7. The Burrowing Bunny Cake
I love this bunny bum cake!! Too funny. I could see it definitely being the star of the show and making all the kids giggle. From Sweet Eats Cakes.
8. Twin Sisters Coconut Bunny Cakes
Adorable coconut cakes from Jenny Steffens would totally be the star of the show at my house! Two of anything is perfect for the twins. These are so sweet and innocent looking, almost too cute to eat.
9. The Hidden Surprise Easter Bunny Cake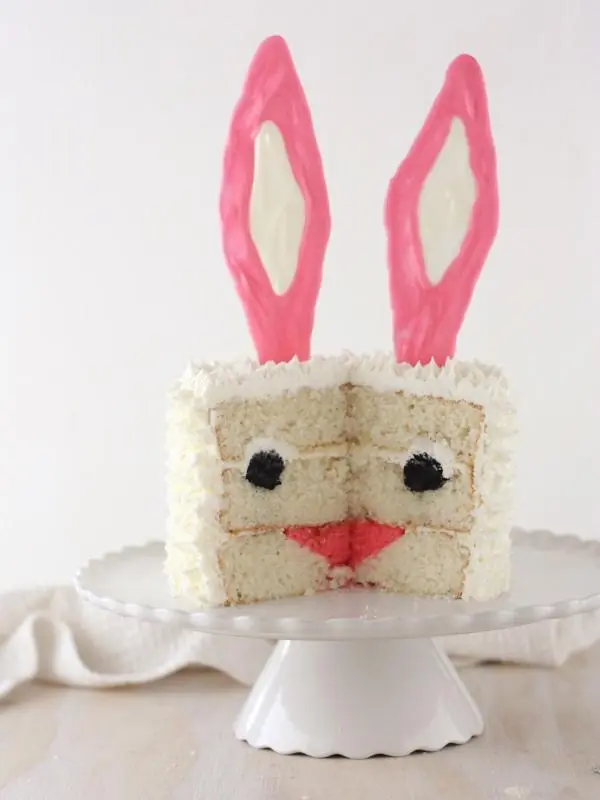 How fun is this bunny surprise cake from Completely Delicious! Every slice you cut still shows you a bunny face. So clever. You need to be able to make multiple cakes in a few colors, but if you are looking for something special, then this will do it!
10. Candy Bunny Butt Cake
This bunny cake is a true candy lovers delight! From the cute bunny butt diving into a pile of m&ms and delicious cake, this is totally stuff kids dream about it. From The Sweatman Family.
11. Sleeping Easter Bunny Cakes
These don't even look real!! Daniella is a serious fondant master and creative artist. Everything she makes is so adorable. We love bakery bling! From Chicky Treats.
12. Easter Peeps Cake
Now this is a bit more what I am used to! The green coconut is baaack!! But these fun Easter bunny peeps are colorful delight and keep it all in place! From Wonderfuldiy.com.
13. Easter Rabbit Cakes
These are some serious rabbit cakes! They look so real and totally complex. They were each created from a a really cool Rabbit cake mold and then the frosting added with created with a star tip pastry set similar to this one from Amazon. Beautiful creation from Sugary Winzy.
14. The Chocolate Bunny Cake
No coconut here, but the cake is 100% edible. She uses edible wafer paper (Like this from Amazon) cut up for the grass and then decorates the top with classic Easter treats. From the Cake Blog.
15. Bunny Peeps Nest Cake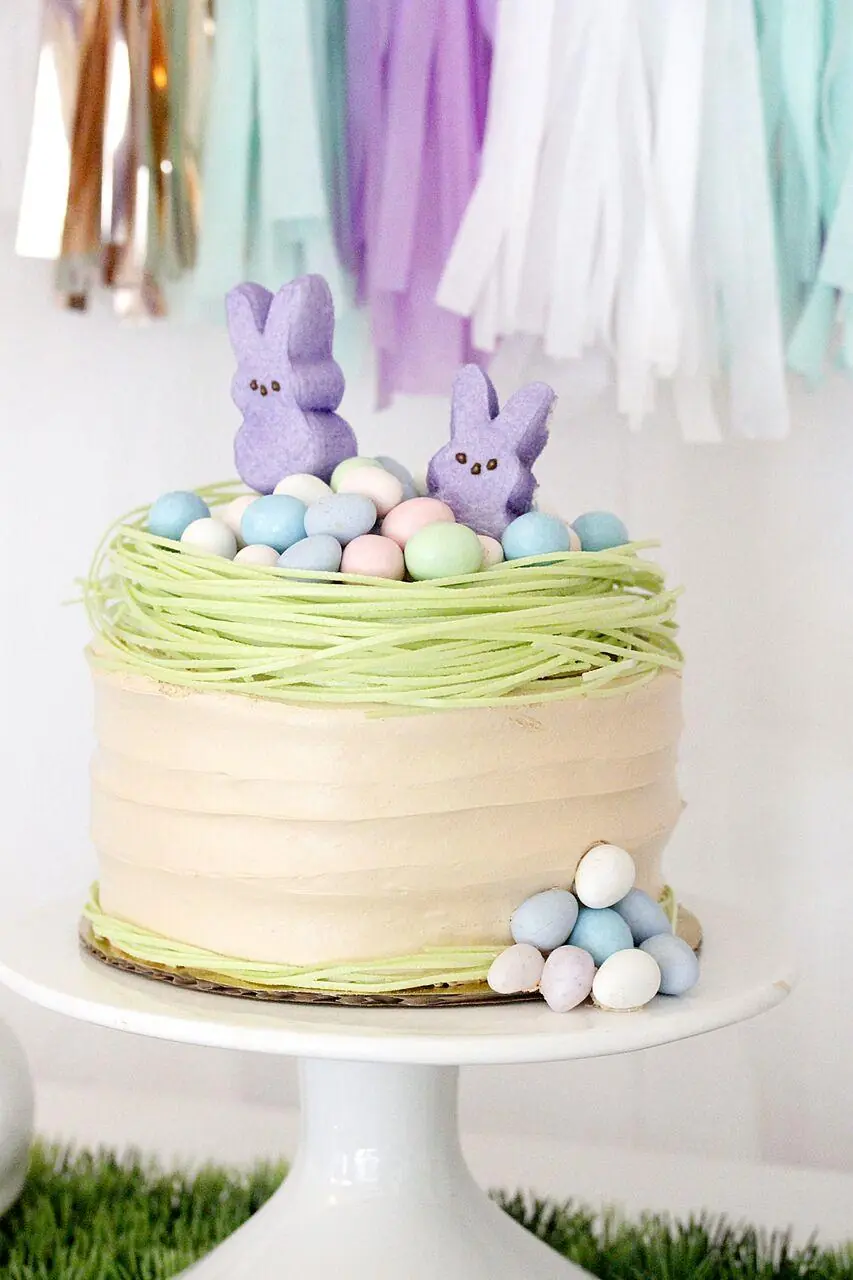 This gorgeous cake complete with Easter bunny nest is appealing to both the eye and palette I imagine! From Black Twine.
16. Easter Bunny Hill Cake
OK, this might be my favorite bunny cake of all time!! Its so create and fun and tells a story. I love creative pieces of work and this is super unique and a great way to add some humor to your Easter day. From Hello Cupcake Book.
17. Easter Bunny Ears Cupcakes
Ok, while not technically a regular cake, these little cupcakes were actually something I could try so I had to include them! They are so cute!! From Your Cup of Cake.
18. Easter Bunny Pound Cake
This precious bunny cake looks almost to real to eat! The simple freshness and pleasing appearance makes this minimalist looking cake a fan favorite. Nordic ware has a great baby bunny cake pan to use for this dish that makes 6 bunnies at a time. We love these pan- on Amazon.  Pound cake recipe and instructions from Julie Blanner.
Final thoughts
Cute bunny cakes are the perfect sweet treat to bring a touch of whimsy and adorable charm to any occasion. These delightful confections often feature a fluffy bunny face made from cake or cupcakes, adorned with fluffy frosting, and decorated with colorful details like fondant ears, candy eyes, and a cute little nose.
Whether it's for Easter celebrations, birthdays, or just because, these cute bunny cakes are sure to bring a smile to everyone's face and add a sprinkle of cuteness to your dessert table.