This post may contain affiliate links. See affiliate disclosure here.
Are you ready for a colorful adventure? Get your crayons, markers, or colored pencils ready because these free printable Fourth of July coloring pages are here to brighten your day! Whether you're a kid or a kid-at-heart, coloring pages offer a world of fun and creativity that knows no bounds.
With just a click or a quick download, you can grab these free printable coloring pages featuring everything fun about the Fourth of July and its celebrations. The options are endless!
Once you have your coloring pages in hand, it's time to unleash your inner artist! Dive into a sea of vibrant colors, experimenting with different shades and blending techniques. You have the power to bring these black and white pages to life, adding your unique touch and style to every stroke.
But coloring isn't just about creating pretty pictures. It's a journey of self-expression, relaxation, and pure enjoyment. As you focus on coloring within the lines, your mind finds a moment of tranquility. The stresses of the day melt away, replaced by a sense of calm and contentment. It's like taking a mini vacation for your brain!
And let's not forget the joy of sharing your colored masterpieces. You can proudly display your creations on the fridge, give them as thoughtful gifts, or even create your own coloring gallery to showcase your artistic prowess. Who knows, you might even inspire others to pick up their coloring tools and join in on the fun!
18 free printable fourth of july coloring pages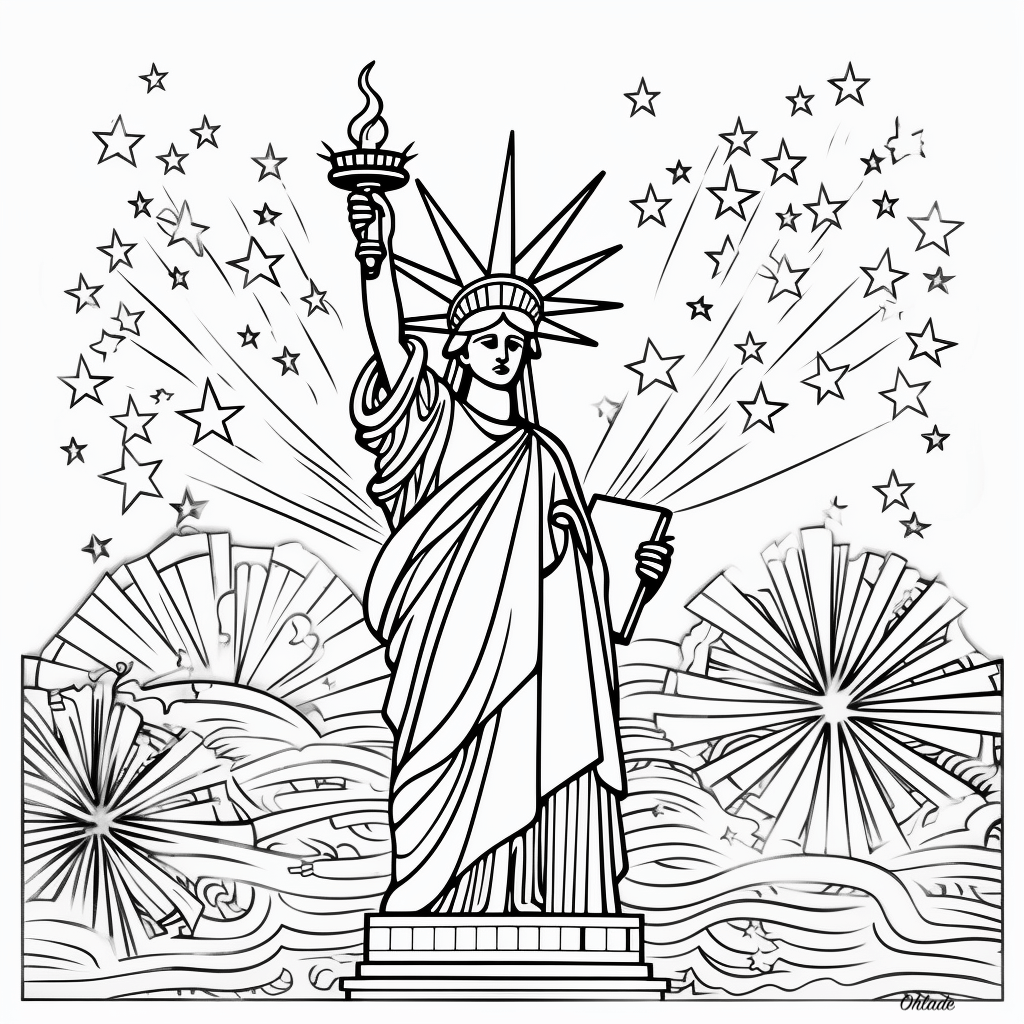 Fourth of July coloring pages are a popular choice for celebrating and honoring Independence Day in the United States. These coloring pages typically feature patriotic symbols, such as the American flag, fireworks, liberty bells, eagles, and other iconic elements associated with this historic holiday.
Here are some ways you can enjoy These Printables
Celebratory Decorations: Fourth of July coloring pages can be printed and used as decorations for your Independence Day festivities. Color them in vibrant red, white, and blue, and display them as banners, wall hangings, or table centerpieces.
Educational Tool: Coloring pages provide an opportunity to teach children about the significance of Independence Day and the history behind it. You can engage them in discussions about the importance of freedom, the Declaration of Independence, and the birth of the United States while they color the pages.
Family-Friendly Activity: Coloring pages offer a fun and inclusive activity for the whole family. Gather around and spend quality time coloring together. It can spark conversations about patriotism, the values of liberty, and the importance of unity.
Community Engagement: Fourth of July coloring pages can be shared with local community centers, schools, or organizations as part of patriotic events. They can be used in contests, distributed to children during parades, or displayed in public spaces to foster a sense of national pride and celebration.
The popularity of free printable Fourth of July coloring pages stems from their ability to engage people of all ages in a creative and enjoyable way. They allow individuals to express their love for their country, learn about history, and participate in the festivities surrounding Independence Day.
So, grab your red, white, and blue coloring tools, let your imagination run wild, and celebrate the spirit of freedom and independence with Fourth of July coloring pages.
Have a fantastic Independence Day!