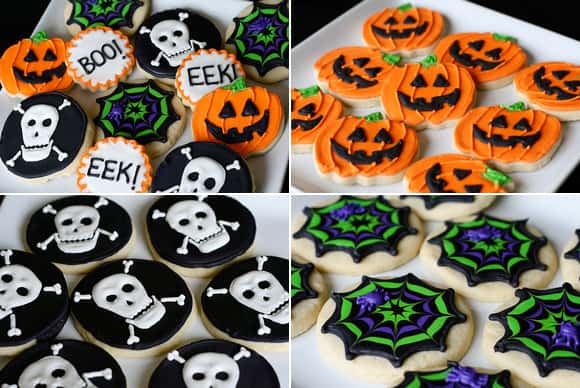 Halloween cookies take the party to the next level, and if you are thinking about adding them to your event, great idea! But why should you have all the fun making the cookies? You can turn your cookie making into an experience everyone that attends will enjoy.
The process should be started by making several dozen sugar cookies. If you want to cheat on this, there are many cut and back options designed for Halloween you can use. When you have your cookies done, set them aside, you are now ready to begin the preparation for an activity!
Halloween Cookie Party Activity #1
Begin to make bowls of toppings people can place on their cookies. You should have a number of tubs with icing available. Make sure you have a few orange and black, with a sprinkling of other colors. You then will need to gather your creepy ingredients.
Break up some candy corn for broken teeth, have some gummy worms available, and even consider making some dirt from Oreo cookies. While you are going through the side project, think about what your guests might find fun.
When everyone is together, have a challenge to see who can make the creepiest cookie in less than 5 minutes. Let them tear into the options and then have a prize that they can win.
Halloween Cookie Party Activity #2
For this activity, make a sample cookie that people will need to make, and place the ingredients in front of each chair that it will take. Allow everyone to look at the cookie, and then blindfold them, and have them remake the cookie with their hands. Be sure you have creepy feeling items to use.
When they are done, have them remove the blindfold and check out their work. The best cookie wins a prize!
Remember, these are just some ideas you can do, come up with your own ideas as well for the perfect Halloween Cookie activity!