This post may contain affiliate links. See affiliate disclosure here.
Crystals and gems are an increasingly popular accent to bullet journal spreads. Just scrolling through Instagram you will find tons of bujo spreads and sketchbooks filled with cute doodles of crystals. Perhaps their popularity comes from their healing energy–or because they're quite easy to draw and brighten up any spread or sketchbook. However, not everyone knows how to draw crystals. This article tutorial will help get you on your way to creating beautiful and creative crystals and gems!
Crystals come in so many different shapes and colors, and even more remarkable, they come with a myriad of different features. As unique as a fingerprint, no two crystals are the exact same. This means they are a perfect design element because they are adaptable to any theme or color scheme.
Because the color and shape of crystals varies quite a bit, it's possible to use many different kinds of tools to create beautiful designs. Some common tools include rulers, brush pens, gel pens, fineliners and ballpoint pens. Before we dive into a tutorial on drawing crystals and gems, let's take a look at the supplies you may want to use.
If you aren't confident in your artistic abilities, you could use a pencil to sketch out a plan for your design. However, crystals are so easy to draw, you probably won't need a preliminary sketch! Other than a pencil of your choice, you might want some of the following tools.
Drawing Tools & Supplies:
You can use just about any type of pens, pencils, water colors, markers and more to draw. When you have quality tools, you can create easier. I have my favorite list of bullet journal supplies and below are my favorite drawing tools as a suggestion.
Fineliners
Fineliners are a type of plastic or fine fibre pen that are usually used in art, graphic design and lettering. You typically wouldn't write with a fineliner, but some people prefer the feel of a fineliner over a ballpoint pen. Either way, they are perfect for creating the line work of your crystal or gem design.
Sakura Black Pigma Micron Pens are a popular option for a set of fineliners.
– Comes in a variety of different sizes
– Uses Archival pigmented ink
– Waterproof and fade resistant
– Creates dark lines without bleeding through the paper
Ballpoint Pens
Ballpoint pens can be used for so much more than making grocery lists and taking notes. They're a great tool for bullet journals. Not only are these pens more readily available, they're also a cheaper option than fineliners. Gel-based ballpoint pens tend to create smoother, darker lines than regular ballpoint pens. Just be careful, the ink from gel-based pens need time to dry before they can be touched or colored.
Pilot G-2 Gel Pens are my personal favorite ballpoint pens for writing and drawing.
– Available in many different colors
– Comes in a variety of sizes, but usually the sizes are sold separately
– Creates dark, consistent lines
– Costs less than fineliners or markers
Brush Pens
Brush pens, though typically used for hand lettering, are perfect for giving your crystals a beautiful color. They come in a wide variety of colors and styles. Watercolor brush pens can give a more translucent color, while standard brush pens are saturated with ink for a bolder color. These versatile markers can be used on a myriad of projects, and are an essential tool for any bullet journal fan.
Tombow Dual Brush Pens are great because they are dual tipped, with a brush pen on one end and a fineliner on the other.
– Available for purchase individually or in packs of ten
– Gives the look of watercolor without the mess
– Produces consistent lines with the fine tip
– Creates fine, medium or full brush strokes with nylon brush tip
White Gel Pens
This might seem surprising, but white gel pens can really come in handy. They work well for adding highlights to your design. Once you color in your crystals, an easy way to add dimension is by adding a few strokes of white to make it seem like light is bouncing off your gems. You can also use white gel pens to outline your crystals if you don't want heavy black lines in your drawing.
SAKURA Gelly Roll Classic Gel Pens can be found in many bullet journal inspired Instagram posts.
– Comes in a multitude of sizes
– Covers even the darkest colors
– Creates consistent lines
Highlighters
Surprisingly, highlighters are super effective for drawing crystals. This is because most highlighters have a chiseled edge, which means you can effortlessly achieve sharp, thick lines in a variety of different colors. You can use them to create the crystal's line work, as well as to get precise color in your drawing without smudging the ink from your fineliner or ballpoint pen.
Stabilo Pastel Highlighters are very popular for bullet journals. Probably because their colors are light and beautiful.
– Lasts up to four hours if left uncapped
– Comes in pastel and fluorescent colors
– Gives a matte finish
Ruler
Rulers are helpful for creating straight, distinct lines commonly found on crystals. They are especially useful if you aren't one to create a preliminary sketch. I recommend purchasing a short ruler, as it's easier to position on a small journal or sketchbook page. A clear ruler is even better, because you can still see the rest of the design while you're working on a small portion of the crystal.
Mr. Pen Ruler is clear and only six inches long, making it a strong option for artists of any level.
– Comes in a pack of three in case you lose or break one
– Uses clear plastic to keep the entire design visible
– Fits in most pencils cases because it's not a full-sized ruler
time to learn how to draw crystals.
This tutorial on how to draw crystals comes from Kat's Instagram. It is pretty easy to follow. Below are her steps, but expanded and explained.
Step One, Shape:
First, start out by drawing the basic outline for your crystal. As you can see from step one in Kat's tutorial, the lines aren't perfectly straight. Plus, she uses narrow rectangles, octagons, septegons and even shapes without fully distinguished sides. The point is: your outline doesn't have to be perfect. Crystals form in random shapes, and your drawing should reflect that uniqueness!
Step Two, Design:
As you can see, in Kat's tutorial, step two is broken into two different parts. It's important to notice the distinct parts, so you can create crystals that appear three dimensional.
Part One: There is no right way to begin the design step. In the first two crystal designs, Kat drew lines pointed toward the center of her outline. She repeated the shape of the lines over and over again, giving the crystal a uniform and cartoon-ish look. This look can work with your bullet journal spread if you're going for a cute theme.
The last three crystals in the Kat's tutorial appear more realistic. This is because she drew small triangles, diamonds and lines randomly. There is no rhyme or reason to the designs, as opposed to the first two crystals in her tutorial. These crystals look more realistic because, just like in nature, the features are unplanned.
Both types of crystals are beautiful and can work for different spreads and themes. Just draw whatever you think looks great!
Part Two: This part of step two is probably the easiest. All you have to do is connect the lines and different shapes to the outline you created in step one. Suddenly, your crystals will look like they're popping off the page. It's important to note, the lines you create in this step look best when they're straight. This is a good time to break out a ruler!
Step Three, Coloring:
The way you color your crystals is entirely up to you! You can color them in a single color, or add even more dimension by using different shades of the same color. In Kat's tutorial, her crystals are entirely purple and they still look fabulous! However, shading your crystals can create more depth to your bullet journal spread overall.
Here is another great tutorial from Amanda Rach Lee's Instagram! It's structured the same way as Kat's, but there are even more examples of crystals to fuel your creativity. Just like with Kat's, some of Amanda's crystals are uniform and cartoonish, while others appear more natural and authentic. No matter what design style you choose, all it takes is some basic lines and shapes and you'll have a fresh, engaging design.
Sometimes, though, a black outline can look heavy. Crystals are light and sparkly, and dark line work can take away from that. If you want to focus on the color of the crystals instead, you can use a white gel pen to create your outline. That way you can create precise shapes without visible line work.
Now that you know how to draw crystals, let's take a look at how to add dimension to your drawings through color.
This tutorial comes from Cynthia's Instagram. The first two steps are a condensed version of Kat and Amanda's design tutorial. It is very helpful, but let's focus on steps three and four.
In step three, Cynthia used three different shades of purple to get a three dimensional look. All you have to do to achieve the same effect is color in the different sections with at least two different colors. You'll notice that sometimes one section is colored with the same color as the one next to it. That is perfectly fine! It adds to the randomness, which reflects the nature of real crystals.
If you don't have a lot of color options, you can create darker colors by repeatedly coloring the same section until it's the shade you desire. If you use a brush tip marker or pastel highlighter, you'll be able to build up the color without worrying about the ink bleeding through the page.
Finally, in step four, Cynthia added embellishments to her crystal, such as confetti doodles. Drawing small embellishments brings more variety to your design. Plus, if you made your design a little too small for your spread, embellishments help fill the page. Cynthia also used a white gel pen to add reflection and highlight to her crystals. While subtle, it creates an authentic looking crystal. Her design really bounces off the page!
Once you feel comfortable drawing crystals, they become a design element you can easily incorporate into your bullet journal spreads. And trust me when I say, you won't be able to resist these doodles! However, figuring out how to add small crystals to a large spread can be a little intimidating. Take a look at these beautiful bullet journal spreads to get your creative juices flowing!
This beautiful weekly spread comes from Sarah's Instagram. Sarah incorporated crystals into the top border of her spread. This spread shows how well crystals work as an accent to elevate the main portion of the spread. Sarah used a gel based pen to color in her crystals. If you look closely, you'll see she didn't use a bunch of different colors to achieve a three dimensional look. Sarah simply recolored some sections to get a darker color. It subtly adds depth without using too many different supplies. Sarah also added embellishments like shown in Cynthia's tutorial, which helps fill in the border.
Of course, you can always use crystals as the focal point of your spread or page, like Plinth did in her monthly page. You can check out her Instagram for more gorgeous designs. This design is elaborate and captivating. It looks complex, however, it's pretty simple to do. Just draw large crystals using this tutorial and color them, and add whatever text you'd like! You can create breathtaking designs without being an art master.
I really enjoy the combination of uniform crystals and random crystals on Marta's Instagram. The symmetrical crystals on the center of the spread draw your attention to the page. On the other hand, the authentic look of the crystals around the border add a lot of variety to the spread. Overall, I really enjoy the look and feel of this monthly introduction.
I could stare at this gorgeous weekly spread all day. Simone posted this to her Instagram, and I honestly want to recreate the look in my own bullet journal right now! I love the coloring because it shows that you can keep it simple, but still achieve depth and dimension. The crystals also act as page dividers, breaking up heavy blocks of text. The pop of color from the crystals brings a refreshing look to the spread.
What I love about this crystal spread is the minimalist look. Created by Cynthia, she created a gorgeous look without adding any color. The pages look crisp and clean without appearing boring. If you want to leave yourself plenty of space to write, small crystals are the perfect accent–especially when they are left uncolored.
If you don't want heavy black lines on your crystals, this monthly spread by Lars is the perfect inspiration for your design. It is a great example of how a white gel pen can be used to create a design that highlights the beautiful coloring of the crystals. Her crystals look weightless, and they blend right into the theme of her spread.
Here is another great example of how a white outline around your crystals can focus the attention to the vibrant colors in your design. It comes from Abby's Instagram, and it's one of many examples on her page of different crystal bullet journal themes. I enjoy her posts because she frequently shows the supplies she uses, so you know exactly how to recreate her spread!
This page comes from Slav's Instagram. I really like the way she didn't just draw crystals, but made them look like they're hanging from the top of the page. Her spread shows how adaptable crystals are no matter what your theme is! You can also make bullet journal stickers with gems and crystals using printable sticker paper. You can color them in or use as is!
I love the combination of big, bold text with glimmering crystals in Laura's weekly spread. It gives the entire theme a nice balance. You can see that she doesn't use a lot of shading, but her crystals still look three dimensional. The combination of coordinating colors really creates a cohesive theme.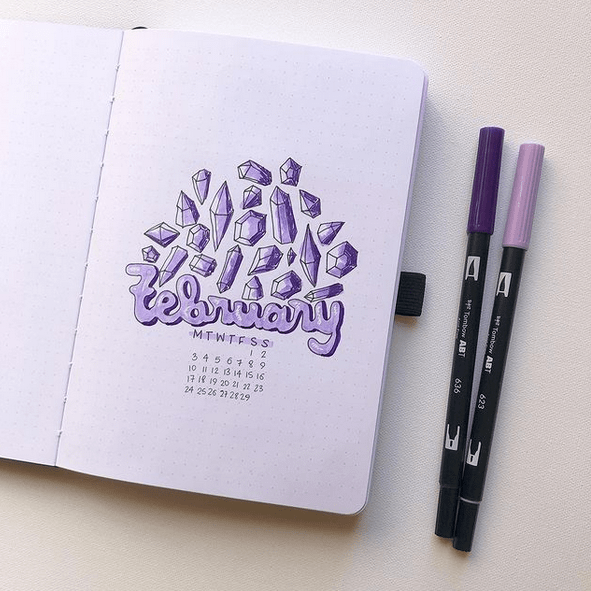 Finally, the last bullet journal spread I want to share comes from Abigail's Instagram. I wanted to share this spread because it shows how powerful two simple markers can be. The consistent shading on the crystals makes it look like the sun is shining on all the different gems. I like that she used the lighter purple shade to create the word "February" and created a shadow effect with the same color as the darkest crystals. It creates a cohesive look I'm dying to replicate!
Crystals and gems are the perfect design element to add to any spread. Whether you're going for a minimalist look, or want your page to pop with color, crystals can accent your bullet journal or sketchbook beautifully. Now that you know how to draw crystals, take time to practice incorporating them into your spreads, and suddenly you'll be able to design and shade more complex designs. You'll be amazed at how easily you can make your artwork shine.