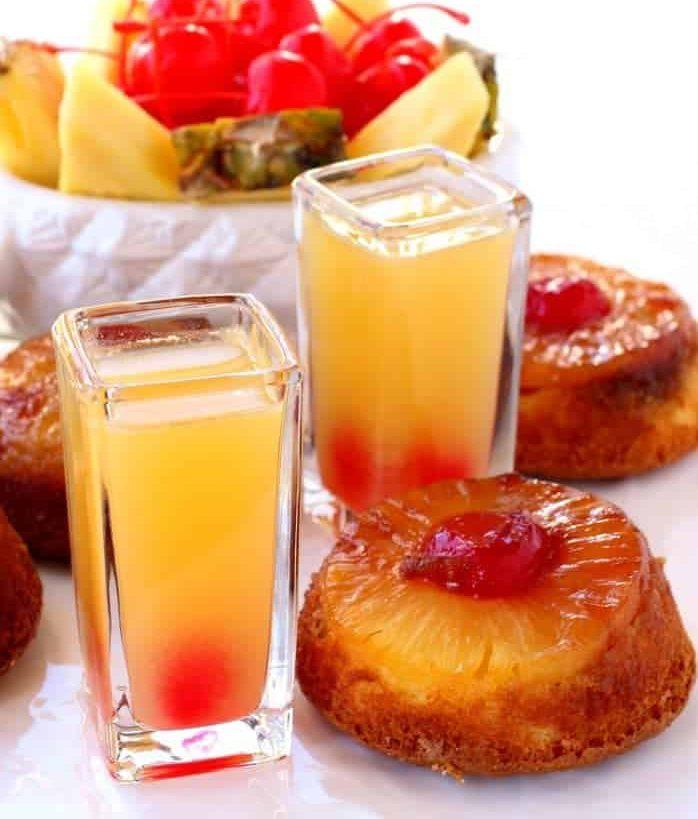 Are you a fan of the amazing pineapple upside down cakes that remind you of basking in the sun on a tropical island in the middle of nowhere? Or perhaps it was more of a comfort food that your grandma made you when you were young. Either way, this yummy pineapple upside down cake shot will bring back all those sweet memories with just one sip!
These delicious sweet pineapple cherry shots are sweet, refreshing, and will definitely get you in the tropical mood.
Some recipes call for vanilla whisky, while others call for vanilla vodka so you can really take your pick with liquor. I suggest either Vanilla Crown Royal or Pinnacle Cake Vodka as the additional flavors will create a nice smooth, sweet flavoring. The whisky makes the drink a bit heartier tasting with a bit earthy and warm notes. You can also use a Vanilla vodka for a slightly less sweet taste if the cake vodka is not available.
So the question is, does it really taste like Pineapple Upside Down Cake? I'd give this a definite thumbs up here. With about 85 calories per serving, this drink has far less calories than the real thing and will make your mouth dance with delightful flavors.
To make these pineapple upside down cake shots all you need is pineapple juice, cake flavored vodka, grenadine, and some cherries! Super simple and easy. If you are looking for a more low calorie drink, you can add a bit more pineapple juice, some sparkling water and turn them into cocktails or even mocktails (just replace the vodka with a drop of vanilla flavoring).
The mix of fresh pineapple juice and cake flavored vodka along with grenadine are the perfect choice for a hot summer afternoon sitting by the pool. If you can't get to the Bahamas, then bring the Bahamas to you!
If you are a fan of delicious and refreshing cocktails, try out our homemade Margarita mix recipe for an awesome choice drink!
Pineapple Upside Down Cake Shot Recipe:
Place 4 ounces of Pineapple juice into a shaker with a few ice cubes. Add your cake flavored vodka or whisky and give a few quick shakes to get the mixture nice and cool. Then strain out the concoction into 4 shot glasses, leaving a bit of room at the top for grenadine and a cherry (if desired). Add a splash of the grenadine to each shot and let it settle at the bottle of the glass. It may take a few moments for the drink to resemble above. Just don't mix the grenadine into the drink and will look like those epic sunsets in no time. Then you can add a cherry to the bottom or just a side treat for your guests. I also like to serve fresh pineapple as well.
Get the printable recipe below, and be sure to tell us in the comments what you think!
Pineapple Upside Down Cake Shots
This tropical shooter will be a crowd pleasure at your next summertime event or backyard BBQ.
Ingredients
4

oz

Pineapple juice

4

oz

Cake Flavored Vodka

Small

Splash of Grenadine

Add after poured into shot glasses

4

ea

Marichino Cherries & Slices of Pineapple
Instructions
Add the pineapple juice and cake vodka in a shaker with ice. Shake or stir until the mixture is chilled.

Strain into 4 tall shot glasses. Leave a little room for the grenadine

Add a splash of Grenadine to each shot glass and let it settle to the bottom of the glass for this signature look.

Garnish with a Maraschino cherry and slice of pineapple

Serve your pineapple upside down cake shots to your 21+ older guest at a fun backyard party or tropical themed event!