This post may contain affiliate links. See affiliate disclosure here.
Essential oil diffusers are one of the most amazing things that make you really want to enter your house; it gives you a feeling of relaxation and comfort. Oil diffusers are easily available at stores or online at places like Amazon, and the best part is that they don't cost a fortune at all. Below are my very favorite recipes for essential oil diffusers that are a must try to make your home smell fresh, clean and inviting.
You can make your house smell you just into a pile of clean laundry, or into a wintertime forest, or as if your constantly baking sugar cookies. The smells and recipes are endless.
Before really digging into the recipes themselves, I feel like its important for you to understand all the benefits of essential oils and different types of diffusers and why using one is way, way better than just grabbing a chemical laden glade plugin or toxin releasing candle to mask odors in your home.
Types of Essential Oil Diffusers
There are a few different types of diffusers. There are some that heat the oil up and it disperses into the air and then there are some that are cold oil diffusers. The ones that heat the oil will work best in small places like your car but will not offer much of the benefits itself from the oils. The cold air diffusers are ultrasonic or nebulizing. These are the most effective at dispersing essential oils in a way that is beneficial to your health and well-being.
Ultrasonic Diffusers
An ultrasonic diffuser is an aromatherapy diffuser that uses vibrations to disperse essential oils into the air. They break the essential oil particles down into their base molecules. They use water as a transference tool instead of steam. The ultrasonic motion create vibrations in the the water causing the separation of the oil molecules which sit on top of the water. It then releases these separated particles into the air with a fine mist.
These types of diffusers are easy to clean and require little power. However, they can release a lot of moisture into the air which can dilute the essential oils. This can be good if you are looking for a mild scent, are sensitive to scents, have small children or pets.  With the oils being dilluted, you are not receiving the full benefits of aromatherapy but its still a nice way to breath cleaner, fresher air.
My favorite ultrasonic diffuser is the GuardianAir Ultrasonic Diffuser by SpaRoom. This is a great safe way to introduce aromatherapy into your home.
The square sturdy base is solid and not easily knocked over by kids or pets. You can set this device for one-, three-, or six-hour cycles.
We love the fact that if the water level gets too low, the unit will automatically shut off. A nice little safety feature. With tons of alternating colorful lighting effects, this diffuser offers a wonderful starting point for families.
Buy it: Amazon for under $40.
Nebulizing Diffuser
A nebulizing diffuser is the most effective essential oil dispersal on the market. It offers therapeutic properties of 100% pure, organic essential oils. They do not require any water for their operation. Instead, nebulizers use an atomizer to create fine particles out of essential oil, which is then diffused into the air by the device.
This means the oil is far more more potent because it has not been watered down. Nebulizing diffusers disperse the essential oils more quickly than any other diffuser and create a much higher density of essential oils to air. The con with these types of products is that they go through essential oils much quicker than other diffusers and they are usually more expensive than the ultrasonic types.
I love the way nebulizing diffusers look as they often use glass and look more like art than not. They don't hold water tanks so they can be more simplistic and natural looking.
The ArOmis diffuser uses no heat or water to function keeping the essential oil in its natural state as it becomes a mist. The diffuser base is made of natural pine wood and has a hand-blown glass external components. This unit has a built-in timer function that gives a small spray of therapeutic essential oils every ten minutes then shuts down after 4 hours. This unit is ideal for someone looking for stronger scents in their home and to obtain all the health benefits from their essential oils.
Buy it: On Amazon for under $100.
Benefits of Essential Oil Diffusers
There are a number of reason to use pure essential oils, mainly because they are much healthier for the air and for your lungs than toxic chemical which can be found in candles, scented cleaners, and air fresheners. Below are 9 wonderful benefits of using essential oil diffusers.
1. Stress Relief
The soothing smell from oil diffusers has the ability to provide you with a stress free environment. Your surroundings play a big role when it comes to stress. Many studies have claimed the use of lavender essential oil is the best way to relieve your anxiety and depression, which are the two main factors that contribute to your stress.
2. Modified Appetite
Oil diffusers have the ability to curb your appetite. A controlled appetite leads to a healthy lifestyle; the aroma of the oil has a way of stimulating your mind and senses, which helps you to control your appetite. Recent studies have found that diffused peppermint oil is the best type of oil to smell before a meal. This can help you to feel full even before eating. The fragrance has a way of stimulating our brains.
3. Improved Sleeping Habits
Oil diffusers also have the ability to put your mind at rest, which leads to more sleep. If you are suffering from heavy insomnia, it is recommendable to try aromatherapy to help you get over your insomnia. The best oil blends for a healthy nights sleep is a combination of lavender and Bulgarian rose. These will gently waft you to lullaby land.
4. Bacteria Free Zone
Essential oils prevent the growth of harmful bacteria; they are able to break down all the free radicals with the help of their strong fragrances in the air. It is recommended to use ultrasonic diffusers for such, as they have the ability to double purify the air, detoxifying all bad air in your homes. The best type of essential oils you should use to fight bacteria is thyme and clove.
5. Relief of Physical Pain
Essential oils are wonderful pain relievers and healers. You can dab a little diluted oil onto your skin for a deep heal or you can place a muscle relaxer mix into your diffuser. When you place the natural oils onto your skin, they are absorbed and travel around the body via the bloodstream. In a diffuser the affect is both mental and physical.
Inhaled oils are able to deliver a range of benefits to the body's systems and organs allowing you to relax and relieve all internal pain such as from overworked muscles, headaches, joint pains, sinus and other areas that may be causing you pain.
6. Mosquito Repellent
If you have ever left your sliding glass door open and face the problem of mosquitoes in your house, the best and healthiest way to deal with it is to use essential oil diffusers.
Essential oils have the ability to repel mosquitoes the same way most of the commercial oils include do but without the noxious toxins. Peppermint, cinnamon and cedar wood are the best types of essential oils to use as a way to get rid of mosquitoes and also offers a pleasant side effect of being able to enjoy the calm environment these oils create.
7. Improves your Respiratory System
Essential oils like eucalyptus, thyme, and peppermint include vapors that help to kill mucus in your lungs and nasal passage. These oils help you to breath better and as you breathe clean fresh air there are less chances of you succumbing to awful colds, fever or a bad congestion.
8. Strengthens Cognitive Function
As you already know essential oils helps to calm your mind. This way your brain tends to work in a smoother and more productive direction. Oils allows you to have better focus on things and helps to balance your mood swings.
These essential oils can also have an impact on your hormones; hence, they are able to control your emotions. It is recommended to use oils like rosemary, lemongrass, basil, and tangerine for a better cognitive condition.
9. Cheaper in Nature
Oil diffusers are much cheaper to buy and use compared to re purchasing fancy chemical candles or other forms of things that help you to relieve stress. Oil diffusers are long lasting and contribute to a safe environment for kids and people who are sick.
17 Recipes for a Fresh Smelling House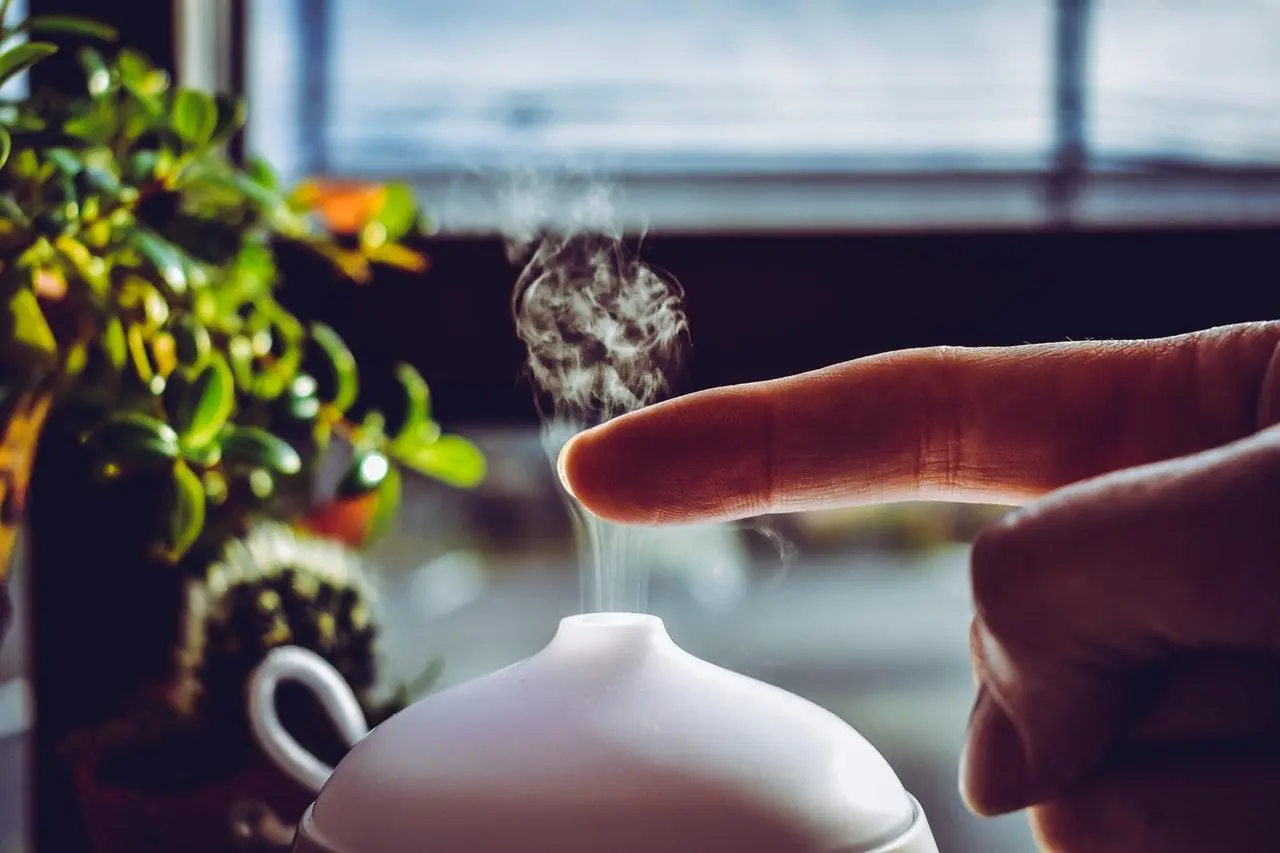 Finally you are ready to get your house all fresh smelling with some delightful recipes for essential oil diffusers. Mentioned bellows are 17 recipe blends that will help you experience the aromas of a fresh clean house, a preferred season or even delicious smells.
We recommend using 100% Natural Organic Oils such as the Cliganic USDA Organic Aromatherapy Essential Oils Set from Amazon. Using subpar oils and scents will not give you the overall benefits you seek here.

1. Chai Latte Diffuser Blend
If you are a Chai lover who wants to experiment the aroma of chai 24/7, make an easy blend by mixing together 3 drops of ginger, clove, and cinnamon essential oil.
2. Pumpkin Patch
If you want to light up the Halloween mood at home, use this easy recipe of a pumpkin patch diffuser blend. All you need is 3 drops of cinnamon and tangerine essential oil.
3. Citrus Explosion
If you want to create a more welcoming feeling at home for your guest then you should try this recipe of citrus explosion in your essential oil diffuser. All you need is 1 drop each of lemon, grapefruit, and lime essential oils and 2 drops of wild orange essential oil.
4. Energized Vibe
This perfect oil diffuser recipe will give you a proper morning boost to start your day off well. All you need is 2 drops of wild orange, cinnamon and frankincense essential oil.
5. Sparkling Fresh
This recipe will help you to achieve all the freshness in your respected surroundings and will help to eliminate any kind of odor. All you need is 1 drop of spearmint essential oil, 2 drops of peppermint, and 4 drops of lemon essential oil.
6. Peaceful Night
If you want to experience the feeling of a peaceful nights rest then you should definitely use a combination of lavender and cedar wood. All you need is 6 drops of cedar wood and 3 drops of lavender essential oil. A mixture of these oils will create a perfect environment for you to sleep.
I love these recipes for essential oil diffusers that can be used for the Holiday season or just about anytime you are looking to make your home relaxing and peaceful.
7. Liquid Sunshine
Have you ever wanted to smell sunshine, well you can now use this easy recipe of different essential oils to savor and enjoy the sunshine feeling in your home. All you need is 2 drops of lemon, 2 drops of Bergamot, and 3 drops of grapefruit.
8. O' Christmas tree
To enjoy and get more involved in the spirit of Christmas you can use this special holiday season oil diffuser. All you need is 1 drop of orange essential oil, 3 drops of cypress, 2 drops of nutmeg, and 6 drops of fir needle.
9. Bug Repellant
This is the best recipe to get away of those tiny creatures that are marching around the table corners of your house. All you need is 1 drop of thyme, basil, and lemongrass and eucalyptus essential oil. This recipe not only helps to get rid of bugs but also leaves an amazing aroma around your house.
10. Sweater Weather
You can use this simple recipe of nutmeg, citrus and thieves to keep you warm during the cold winter season. All you need is 3 drops of thieves, 1 drop of nutmeg and 2 drops of fresh citrus essential oil.
11. Allergy Relief

To keep breathing clear and healthy immune response in allergy ridden spring and summer months, keep this blend handy, and well as apply to the bottom of your feet if you feel allergy symptoms. 3 drops Peppermint + 3 drops Lavender + 3 drops Lemon
12. Spring Floral
13. Germ Buster Essential Oil Recipe Blend

During cold and flu season, say goodbye to 99% of airborne bacteria by diffusing this blend. 4 drops Health Shield plus 2 drops Lemon and 1 drop Melaleuca.
14. Autumn Spice
15. The Backwoods Blend
This scent is more masculine and reminiscent of the woods. It would work well in teen boys rooms, the bathroom or even the man cave to keep it smelling clean and fresh.
2 drops white fir plus 2 drops cypress and 2 drops wintergreen makes this intense scent appealing.
16. Calm Down
There are lots of recipes for essential oil diffusers you can create to relax when your nerves are shot, but this is one of my favorites.
2 drops frankincense, 2 drops bergamot, 2 drops vetiver and 2 drops cedarwood. This is a popular one for the kids as well.
17. LAVENDER Fields
When diffused, Lavender Essential Oil's soothing fragrance can relieve headaches and nausea and it can promote easier breathing by working as a decongestant. It can deodorize a room, linens, or the body. Its calming, sedative quality is known to promote rest and relaxation, helping it to treat anxiety, depression, and insomnia.
A perfect recipe for optimal sleep consists of 4 drops Lavender essential oil and 3 drops bergamot oil. Makes your home smell amazing day or night.
Conclusion
We hope that you are able to make good use of these benefits and recipes. Essential oils not only are fantastic in diffusers but also make for great cleaning agents like in our homemade cleaner with vinegar recipes. These recipes for essential oil diffusers will most definitely make your home smell amazing. They will also help you gain the theraputic benefits you are looking for and encourage a healthy lifestyle where you get to experience the feeling of relaxation and calmness whenever you get home.