Looking for a fun and easy way to get into the holiday spirit? Why not try being creative with a fun Snowflake cut out template! This year, skip the boring old paper snowflakes and use one of these amazing templates to create beautiful and unique snowflakes. We've collected some of the best templates from around the web, so you're sure to find one that you love.
From basic shapes to intricate designs, these snowflake cut out templates offer something for every level of crafter. If you're just getting started, try the simple shapes and patterns that are perfect for little kids.
For experienced crafters, there are more complex designs with multiple layers of paper that can be used to create beautiful 3-D snowflakes. No matter which template you choose, the end result will be sure to impress!
Get creative this holiday season with these amazing snowflake cut out templates! With a variety of shapes, sizes, and colors to choose from, you're sure to find just the right one for your project. So what are you waiting for? Get crafting and make some beautiful snowflakes today!
35 Printable Snowflake Cut Out template
Here are 35 snowflake templates that will help you create beautiful snowflakes that you can use as decoration or even as a gift topper for your presents or Holiday tree.
Get these fun free snowflake templates that include stars, diamonds, lace, heart, snowman and forest snowflakes. These snowflakes range from easy to advanced and there are clear instructions on the downloadable PDF.
From Its Always Autumn.
Paper Snowflakes with Outline
Download Template 1 From First Palette

Template 3 From First Palette
Get Template 2 From First Palette
Stencil Snowflake Outline
Whether its kid birthday party celebration or Christmas, paper snowflakes usually makes one of the best decorations. These snowflake stencil outlines are perfect to print and color and print and use as is.
stencil snowflake template

From What Mommy Does
Disney frozen snowflake template
If you are in love with super hit movie Frozen and would love to carve out some of the famous characters from this click on paper then this is the perfect snowflake template to try out. If you are not sure where to start there are several major characters such as Hans, Anna, Olaf, Elsa that you can always start with.
Template.net
Freehand embroidery snowflake template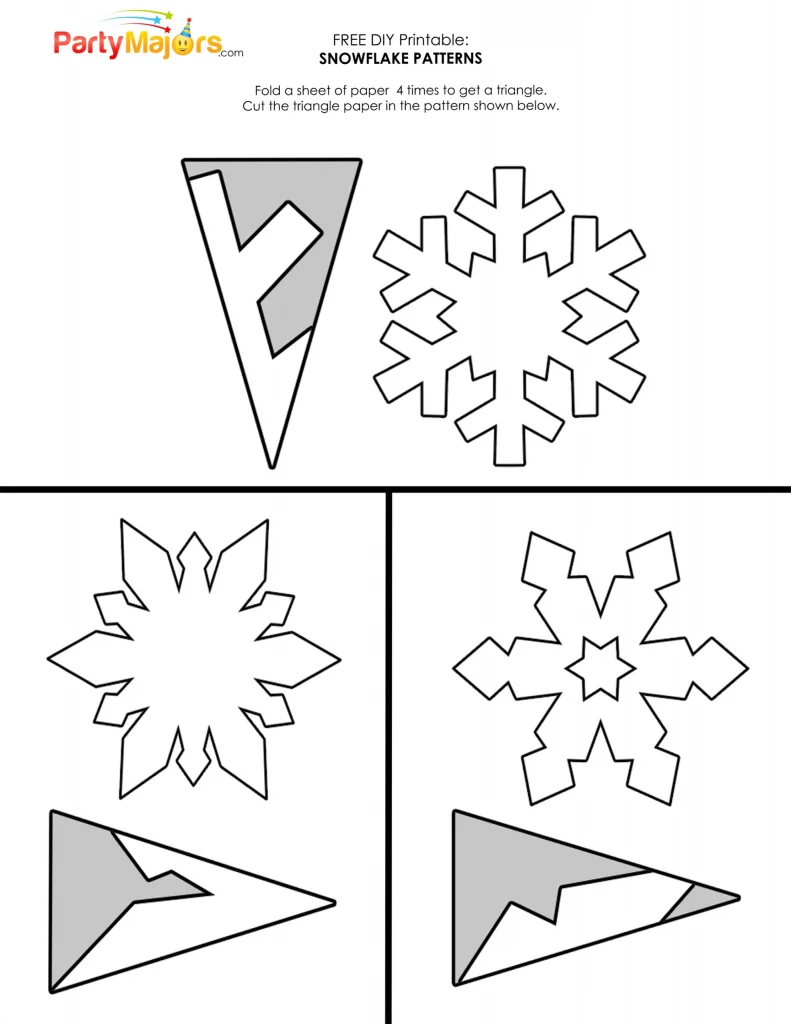 This type of snowflake will provide you with one of the best memories of Christmas. You can also paste them on holiday cards to give you a personalized effect. Once you know how to do it you just need to print
Lacy snowflake template
These snowflake templates are similar to other 3D snowflakes templates. Once you've printed them you can cut and assemble them into squares and use them to make the kind of pattern that you want to make. These templates are worth trying out.
Template at How About Orange
Snowflakes Ballerinas template
These lovely snowflakes ballerinas templates are created using any paper snowflake creation of your own and are made in the form of skirts for the pretty ballerinas. The paper snowflakes are then placed over cut out a template that's provided to come up with a unique pattern.
I Creative Ideas
Snowflake Patterns- Mandala Vector Templates
If you are looking for a snowflake template to make Christmas cards for your friends and family then this is perhaps the one. You can download these free snowflake templates and print the pdf files.
Template.net
Christmas Baubles paper snowflakes
This snowflake template is made up of Christmas baubles cut snowflake template. Unlike others these templates come in four varieties hence you can always choose the best for your needs. You can then use them for making decorations, posters, Christmas cards, and invitation flyers.
Lushome
Free printable snowflake templates
These beautiful snowflakes can be downloaded here.
This snowflake design is mostly used during Christmas. However, since creating your own design can be a very hard task there are always ready-made designs that you can use to create the design that you need.
First Palatte
Frozen snowflake template
These beautiful paper snowflakes were inspired by the movie Frozen. Since it has a pretty unique design it would be perfect to use for making Christmas party invitations or Christmas cards. Once you've made it you can always color it the way you like.
From Anthony Herrera Designs 
Star war snowflake pattern template
If you need some unique snowflake patterns then you need to check out this Star War snowflake templates. These templates are not only unique but beautiful as well. Goes great with our Star Wars Valentines!
Download all the designs from: Wonder how To 
There you have it. Some of the best snowflake templates that you can print and make. These templates are not only popular but are also easy to make. Thus, they can be used and incorporated in Christmas cards, birthday cards, house decorations, and Christmas sale flyers among more.
If you're feeling really creative, why not try some of our more advanced snowflake templates? With multiple layers of intricate paper shapes, these designs will take a bit longer to make but the result is well worth the effort. Make some truly unique snowflakes that you can proudly display in your home or give as gifts to family and friends.
Happy crafting!