Now that your kid has grown into a teen, you want to adjust those birthday party ideas to be more adult and cater to their style. Fear not, we have a huge list of teen party ideas they will love.
Teens love to be treated like adults so throwing a "teen party" is probably your best bet. Their friends are entering into their teen years and they want that cool factor, too!
You'll need some great music, specially chosen decorations and of course all the food and drinks they desire in order to make this evening one that they'll remember for years to come.
Teen Party Idea Tips:
Assuming you want to try and avoid the stereotypical "teen party" that parents often times dread, here are some tips:
Make sure the guest list is small and intimate. You don't want too many kids running around and causing havoc.
Make sure that there's plenty of non-alcoholic "fun drinks" and mocktails.
Decorate the place with neon lights, streamers and anything else that screams "cool".
Put together a playlist of all the latest hits to get them dancing.
Order in their favorite food or have simple snacks like chips and dip on hand.
Make sure there's plenty of seating so they can socialize and catch up with their friends.
And most importantly, have fun! This is your party too after all.
Teenagers are notoriously hard to please but hopefully these ideas will help get you started in the right direction. Whatever you do, keep it simple and customize it to suit the needs and wants of your teen! Have fun!
25 Teen Party Ideas
1. Have a movie party outside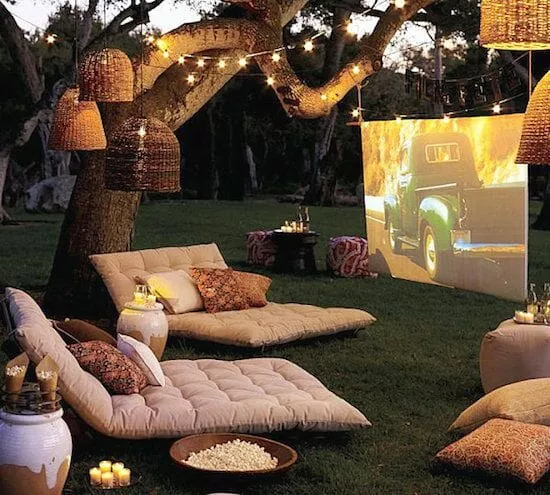 Anyone old enough to remember the days when driving through movie theaters was popular could tell you how engrossing the experience was. With today's technology, now you can introduce a similar setup for your teen's birthday. All that it takes is the right products and a little bit of creativity. Start by renting or purchasing a projector, one that can be used in an outdoor setting. Use it to display the films that are going to be watched.
For more of a drive-in theater feel, you can park a car or two in the front. Grab a few chairs for their friends if anyone prefers to watch the movies outside. You can lay out food and snacks on a table nearby. Where you choose to have the parts can vary, but in the front of your house is a good option.
If no cars are needed, consider having them in your backyard. Make sure to have lots of popcorn, nachos, and other movie theater favorites. Don't forget the birthday cake!
2. Traditional or unique pizza party
Everyone's familiar with pizza parties. But have you thought about having one for your birthday teen in a way that's far from the ordinary? How eccentric you want it depends on their taste, no pun intended.
Some teens, for instance, might like Hawaiian pizza, so a Hawaiian-themed party with plenty of pizza in this flavor might be a great treat for all in attendance.
If your teen and others they know are showing an interest in a vegetarian or vegan diet, make the pizza party themed according to those options. Or maybe they're into traditional Italian-style pizza?
Try making the party themed in Italy. Just be sure to include pasta! When in doubt about what kind of pizzas you'll need for the party, always go for flavors that won't offend.
Cheese or pepperoni are safe. You'll be wise to order a bit more than you think will be needed. Plus, who doesn't love pizza leftovers?
3. Book at a local hotel or resort
Are you a member of a local hotel chain? Let them know that you would like to plan a birthday party for your teen and they might help you sort out catering services. Under favorable circumstances, you might even get a big discount on the room that you book!
Hotels look forward to helping out with events of all kinds, including teen birthday parties. Just remember to call them up instead of going to the hotel on the same day that you plan on having the party.
Early scheduling will work in your favor. Plus, it'll allow you to check and see if there's a better discount on something else in the area, a place that has a bigger conference room or better-priced food. Resorts are also an option.
A resort might be better if the party is expected to have a large number of guests. It might be necessary that more than one room is booked, especially if the location isn't within walking or ordinary driving distance from your neighborhood.
4. Party for the gamers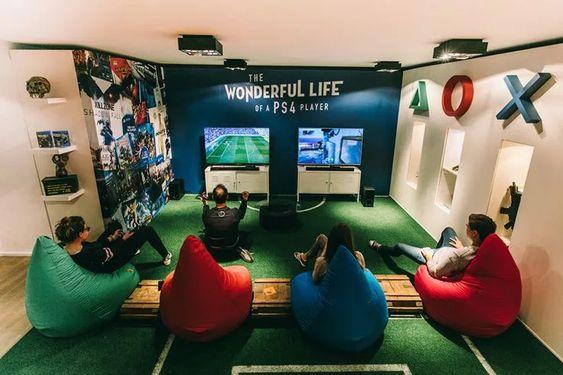 There's a good chance that your child or a friend of theirs are avid gamers. Video games aren't what they used to be, and while it's debatable over which consoles or PCs are the best, all of them are a perfect way to make a birthday party come alive.
If there are virtual headsets, you could even try a virtual party. For friends that can't make it but would still like to attend the festivities, technology makes this easy. Link everyone together over multiplayer.
When in the same vicinity, you can hook up over LAN. It's not as hard to do as it was years ago and requires no expert knowledge. Break out the gaming chairs, make some chips and dip, then let your birthday teen get the hot seat until it's time for them to blow out the cake!
5. Stage a beach party in your backyard
What's the point of having a backyard if you're not going to use it?
Backyards aren't only useful for your grilling sessions. Your teen and their friends can have the time of their life, provided there's a little bit of innovation.
All it takes is a little bit of sand, some beach balls, a pool, music, and plenty of suntans. You can buy sand at your local home improvement store. Sometimes, the sand is meant for sandboxes.
It won't be used for this purpose unless there's a little brother or sister around that you don't want to feel left out. Purchase it by bag.
If you're worried about harming your grass, pour the sand over the landscaping tarp. It'll be easier for you to clean everything up this way once the party's over.
6. Try a glow in the dark party
Things that illuminate in the dark are fun to look at, even when you're lounging about. You may even have your room or other areas in your residence set with mood lighting.
It's a great way to relax and mellow out when you're at home for the rest of the day. But why not try some of those out for a birthday party?
Teens love mood lightning and glow-in-the-dark fixtures as much as anyone else. Taking a look at what teens are doing to their PCs and gaming centers today will reveal to you how lighting can play a big role in the theme they're trying to create.
If this reads like something you think they'll be interested in, add some black lights and glowing posters into the mix.
Or make the entire party a glowing themed event, where everyone is required to have on clothes and face paint that lights up when the lights are off. You can even find birthday cake ingredients that do the same thing!
7. Something different with a mysterious whodunit party
Many teens love mystery and horror films and books. Most streaming services are filled with movies that fall under the whodunit subgenre of mystery.
Maybe they would love a birthday event that follows a similar structure? Teen party ideas don't have to be bland in the ordinary.
Take it to another level by turning your house into a murder mystery story, where everyone in attendance is a suspect. This will, of course, have to involve some careful planning, a bit of research into how it could work, and a well-thought storyline.
To enhance the experience, buy customers for the birthday boy or girl, then tell their friends to dress up for the occasion. Once the perpetrator is found, end everything off with some food that fits the time that the story's set in.
8. Get a party bus for the day or weekend
Not too familiar with party buses? They're essentially a club on wheels. You can rent them out for as long as you want. The typical party bus company leases them per day. If you want one for your birthday teen for the whole weekend, just rent and the bus is yours.
Party buses are used by adults and teen festivities. They include a speaker system, a floor that's big enough to dance on, and plenty of seating space for anyone that wants to join in on the fun.
They can connect their favorite playlist to the speaker system via Bluetooth and jam until the party's over. Depending on the company that you rent the party bus from, you'll have your driver or can drive the bus yourself.
If driving the bus yourself, you may need a class A driver's license to do it. But in most cases, you won't have to worry about that since the overwhelming majority of party bus organizations will provide you with a driver.
9. Outdoor grill with friends
Some teens don't need fancy props and sideshows. For them, there's always the grills. It's no secret that teens love to eat. Having a birthday party over a plate of burgers, hot dogs, seafood, or sous vide will be a treasure.
If an outdoor cookout is up your teen's alley more than what's been shown already, you'll want to make sure that the birthday kid has their favorite foods in plentiful quantities for them and their friends.
These days, it doesn't matter if they're vegan or meat lovers. You can find grilling food that's tasty and fills up every belly in attendance. And best of all, an outdoor birthday celebration can be held anywhere.
This includes backyards, public parks, school grounds, and other places where public grilling is allowed. What you bring should be predicated on what you know that will be a hit with everyone that attends.
10. Birthday party at an amusement park
A day at an amusement park can be a great experience if planned well. If you haven't gone to one in a while, you should know that the best time to enter is around morning or noon. That is if you weren't to buy a fast pass of some sort.
Most amusement parks now have passes that can be used for people that are too impatient to wait in long lines. If you do this, you could go at any time and have your teen and their accomplice skip other waiting people, at any time of the day or evening.
You might even be offered a discount if you tell them that you're planning a birthday party there! Amusement parts take in all kinds of people throughout the year, including those wanting to have birthday events.
Let them know about your plans ahead of time and they could probably help you set up a spot in the park specifically for what you want to do.
11. Party with a Bonfire
An old-fashioned bonfire never hurts anyone, so long as safety precautions are being met. If you stay in an area where a bonfire is allowed, why not have one for a planning teen birthday? Bonfires are easy to set up.
You can camp out in the woods and make one, play the acoustic guitar or sing the happy birthday song. What ever your teen wants to do is up to them.
Bonfires are great for parties. It's also the ideal spot for teens that like to tell stories and bond with each other. They're best when done after the sun sets but don't wait too late. You can say happy birthdays while the fire is still on.
Once that's out of the way, place some marshmallows on a stick and let them roast. If you want to get a tad more creative, make smores using the same method.
12. Hire a food truck for a couple of hours
Get in touch with the right food vendor and you could rent them out for an entire day or evening. They're easy to find. Many vendors are capable of doing this by marketing themselves online.
Speak with one that's in the area you live in and see if they're okay with working during a birthday party at your preferred location. Chances are that they'll be happy to oblige any requests you make.
Just be sure that it's a food vendor that sells eats that you know that your kid and company will enjoy. If they like Thai food or hot wings, let them choose ahead of renting out the vendor.
For surprise birthday parties, you could add entertainment to go along with the lender's services. Whenever someone gets hungry, food is but a short walk from the party area.
13. Bring their favorite cafe to home
It doesn't have to be a franchise cafe, either. It's been a trendy thing for both teens and adults to visit locally-owned cafes for quite some time now, maybe even when you were a teenager. The more things change, the more they stay the same.
Anyhow, consider having a cafe-themed birthday party if you know that this is something your teen will cherish. It's one of many teen party ideas that you can do at either the business establishment or at home.
With local cafes, chances are high that you could get the owner to work out some kind of an event at a certain time in the evening.
Many independent businesses would be happy to have an occasion on their premises. Cafes also serve a variety of products that venture far outside the realm of plain coffee. You can order cakes, ice cream, or even large cookies at them.
Again, speak with the people that work at the cafe you're considering to see if there's anything special that they can do for you. Your teen will appreciate the effort that went into making their birthday party a special event that they'll never forget.
14. Tabletop game party
The popularity of tabletop games hasn't diminished one bit. You could argue that they're more widespread in popularity than they were decades ago. Many teens still love them, and maybe the birthday kid in your family does, too!
Tabletop games are very entertaining and can involve many participants. You could even learn it yourself during the party you throw for them.
Some games are more in-depth than others are, but the majority will work out great for any birthday party. You can add to the entertainment with a little music or even decorations and snacks themed to the game that's being played.
But before setting out with this plan, make sure that you know exactly what games are their favorite, and whether or not they and their friends would find such an event a good time.
15. Spa Day Party
Why not treat yourself and your loved ones to a spa? It's a good idea for both boys and girls. Spas are plenty, with many being featured as part of a package in four and five-star hotels and resorts. But you don't have to go there if you don't want to.
Numerous business establishments cater to spa lovers. Your teen may even get more added on to their treatment if you inform them about their birthday.
Spas have jacuzzis, massage therapy, saunas, pools, and lounging areas for them to take a break from the hard work they do in school. And while you're at it, you can bring along their best friends.
Contact spas in your areas and let them know about your plans. If you can't find any, your next best bet is hotels. Be sure to read the reviews to see what people have said about the spa before making any bookings!
16. Traditional sleepover
Teenage boys and girls have been having sleepovers for a very long time. Some of your fondest teen memories might even involve legendary sleepovers you had during your high school days.
The good thing is that such events haven't gotten into the craze of social media. Plenty of teens like sleepovers. What's conducted at them might've changed, but the format remains the same.
To make the sleepover birthday party more exciting for everyone, you could add a playlist of some of your teen's most-watched movies and film series. Or let them pick by themselves! Games are always a good alternative. After saying happy birthday, don't forget that it's a sleepover.
The more people show up for the party, the better. Have them bring their pajamas and a change of clothes for the morning. If you're expecting a large group. It might be better to open up the living room for everyone to sleep.
Make sure to have plenty of clean blankets and pillows for your child's guests. A little mood lighting during movie time could also go a long way.
17. Mexican themed fiesta
If you were to ask what people love about Mexico the most, numerous people would tell you that the food is spectacular.
Teens also like Mexican food, so why not try it out for their upcoming birthday? You don't have to cook it yourself, just hire a chef with a specialty in Mexican food or get a local Mexican restaurant near you to make everything.
You can also find catering services that specialize in Mexican cuisine. We're talking tacos, nachos, tamales, and all the spicy in-betweens within them. How about making the entire party Mexican-themed?
Many places sell all that's needed for such an occasion. Add a bit of salsa music and you'll have everything needed to make it an authentic birthday bash.
18. Glamping Outdoors indoors with tents
You don't have to have a birthday party in the woods to pitch a tent. Bring the camp inside your home or in your own backyard instead. Just place the tent in an area of your home that has the space for it.
Bring all the camping supplies you would use in an outdoor setting, such as flashlights, portable cooking utensils, and food that's easy to cook. You can still include the cake if you wish.
However, to make it as authentic an experience of camping in the woods as possible, cut off the lights to the area where the party is taking place!
For added effect, have your teen and their friends use sleeping bags inside the tent. Feel free to put on some good movies that everyone will enjoy watching for the evening.
19. Throw a party themed on your teen's favorite sport
Kids and teenagers love sports. If you know their favorite sport, you could make a birthday party for them that's entirely focused on their most loved sport or team from that sport.
It's easy to do and you could even make up games during the party that incorporates playing the sport, albeit in a way that won't make anyone break a sweat.
In the case that your teens and friends are okay with getting a little physical, how about having the party at an outdoor park? They can play for a while and finish up at your place with some cake and other popular foods and sporting events, such as hot dogs.
20. Have an old fashioned scavenger hunt
Scavenger hunts make for ideal birthday parties. Small children can participate, along with teens and adults. Plus, you can set it up to take place indoors or outdoors. Once doing so, place whatever is meant to be found in areas that will take some level of skill to find.
You don't have to make it impossible to locate, but just hard enough to let the hunt go on for an hour or so.
Outdoor scavenger hunts are good but are best conducted at a time before the sun goes down. If you wait too late, it might become too dark for the items you hit hidden to be found. Indoors is better during the evening hours for most. Incorporate the birthday cake as part of the hunt if you wish, or some of the presents given to your teen.
This way, it'll entice them to become engrossed in the hunt to see what present will be up next, and whether or not they can guess what it is.
21. Book an event at your local bowling alley
Bowling alleys have advanced in ways that were once thought impossible. Visit one today and you're more likely to find a partying crowd there, with bowling as simply a part of the many festivities. Bowling alleys have also become centers for people that love to play arcade games.
That's right, the era of arcades hasn't died out just yet! Your local alley likely has hosted plenty of birthday parties before, so contact them to see if they can set you up with an area for you to bring out the food and cake. They may also have services capable of providing all of this for you.
22. Use a video platform to have a party over a video chat
For teens that love chatting and social media, there's no better way for them to showcase their love for technology than having a birthday party done over video messaging. The whole thing doesn't have to take place over video if you don't want it.
But for some teens, it might be a great alternative to having them drive to your place to say they're happy birthdays to your son or daughter.
Just have everyone come online at the same time when they're at home, and let them socialize through video chat for as long as they like. Be sure to present the cake on video for everyone to see!
23. Have a decade themed party
Every decade has unique qualities about it that make it stand out. The 60s were known for great psychedelic music, the 70s for hard rock, the 80s were a synth craze, and the 90s had denim jeans and overalls. But that's certainly not all.
Let your teen pick what decade they want their party to focus on, or try them all out at once! Just make one-room-themed on a particular decade by including photos and music of that period. Guests should be encouraged to dress up in clothing that fits a certain era.
24. Karaoke party
Karaoke is easy to do nowadays. You can pull up the lyrics to almost any song on the fly, singing them at the right tempo and key. It's an awesome way to lighten up the mood. Or better yet, make the entire party a karaoke-themed event. You can have guests request their favorite songs and have the birthday teen write out a playlist of what they would like to hear the most.
25. Indoor or outdoor laser tag event
Laser tag is safe for the indoors and outdoors. If you want to have one inside for a birthday, just clear out the rooms of any fixtures that are lying around. You can split your teen and their friends up into groups, where one of them wins after their entire squad is defeated.
Laser tag setups have a vest that a player wears, along with a toy gun that activates another wearer's vest when the trigger is pulled. This shows who is and isn't out of a game. The teens participating in it are going to be entertained and tired after the laser tag, so bring plenty of food and drinks for everyone to eat during break time.