This post may contain affiliate links. See affiliate disclosure here.
A coffee bar table or station can be a place to gather or a place to savor a few minutes of solitude. Enjoying the coffee-making ritual is much easier when everything you need to make the perfect cup of coffee is in the same place. Whether you live in a sprawling mansion or a tiny dorm room, it is possible to create a special place for making your favorite beverage at these creative coffee bar ideas.
What exactly do you need to build a coffee bar? Like the many types of coffee, there is no single checklist to make a coffee bar reality. In general, a coffee bar includes a way to make coffee, mug storage, and coffee condiments. Some are intricately decorated while others are utterly simple. What your coffee bar will look like is as individual as how you prefer your coffee.
1. Sophisticated Black & White Farmhouse Coffee Bar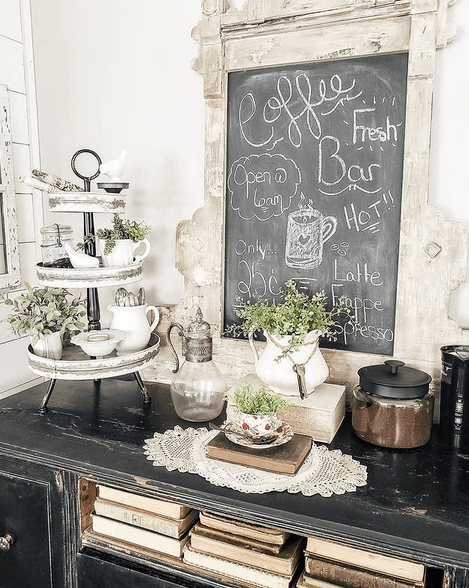 Photo Credit: Farmhousefor8 on Instagram
What is better than hot coffee and a good book? This coffee bar idea is a classy way to enjoy that glorious combination. A lacy doily adds some cozy charm to this adorable coffee nook. The framed chalkboard and tiered tray give this coffee bar a farmhouse vibe. You could use planters and colors that tie into your decor to fit this coffee bar into your space.
2. Rustic Summertime Coffee Bar Table with Lemons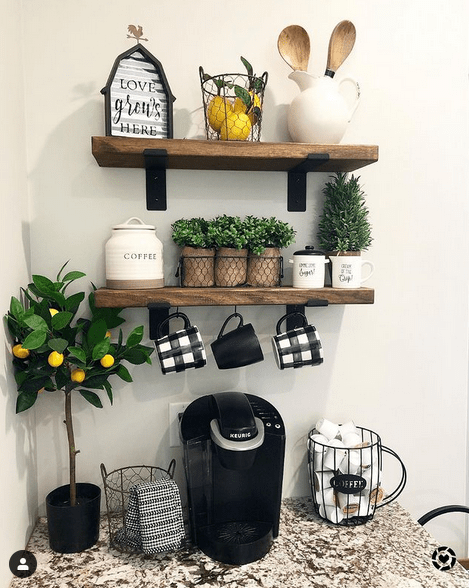 Photo Credit: AllThatsRusticHomeDecor on Instagram
Cheerful lemons and vibrant greenery make this coffee bar a refreshing summertime oasis. While this coffee nook exudes industrial farmhouse vibes, you can switch out the black chicken wire baskets, burlap, and corrugated steel to make this match your style. If you are expecting more than three for coffee, you can always add more mug mounts. The best part is how fast and easy it is to put together.
3. Adorable Valentine's Day Industrial Farmhouse Coffee Bar

Photo Credit: Brooke Riley on re-fabbed.com
Love is in the air at this coffee bar! The fun Valentine's Day theme is achieved with a red and white palette and by using fun patterns like gingham and polka dots. Because many of the red and white pieces can be used in other decor themes like Fourth of July or Christmas, this approach offers incredible versatility.
4. Metal and Wood Shelving Idea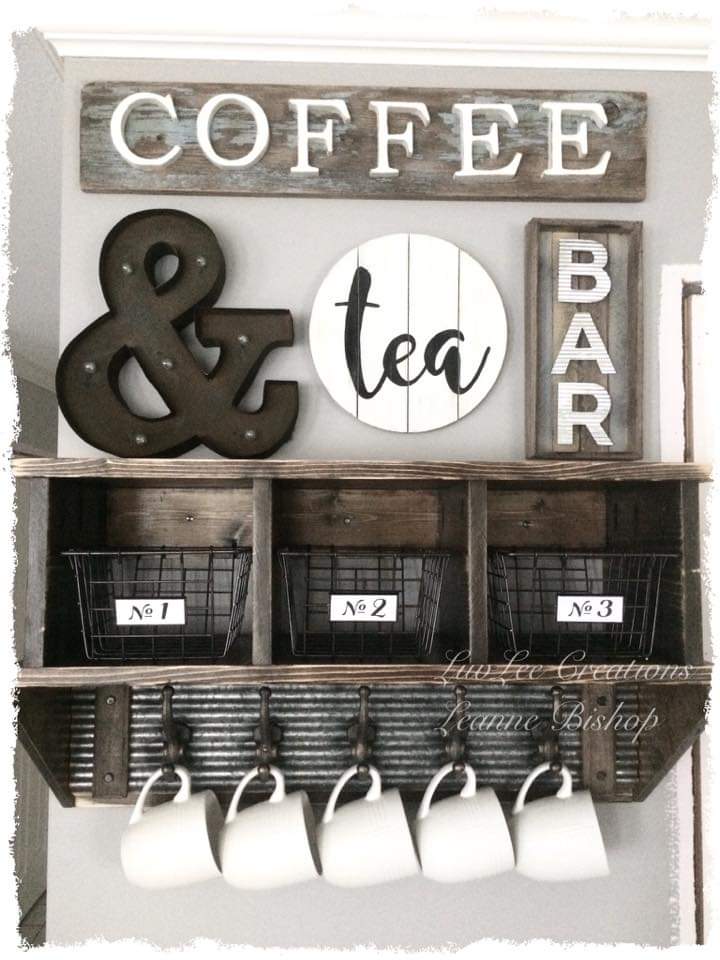 Photo Credit: Leanne Bishop via LuvLee Creations on Facebook
If you think imperfections add character, this coffee bar shelf idea may be right for you. To soften this look, consider lining the wire baskets with burlap or your favorite printed cloth. If there are too many baskets, consider using the middle cuby for a plant or your favorite figurine.
5. Elegant White French-Style Coffee nook
Photo Credit: Kris on junkchiccottage.com
Black and white never goes out of style, and this coffee bar table exudes Parisian charm. Using a reclaimed picture frame on the chalkboard draws the eye and creates a focus point. Hanging mugs give an attractive asymmetrical appearance and add geometric interest. You can use this design as inspiration — the coffeemaker is balanced by the chicken wire basket filled with mugs.
6. Creative Storage Ideas for a Small Coffee Bar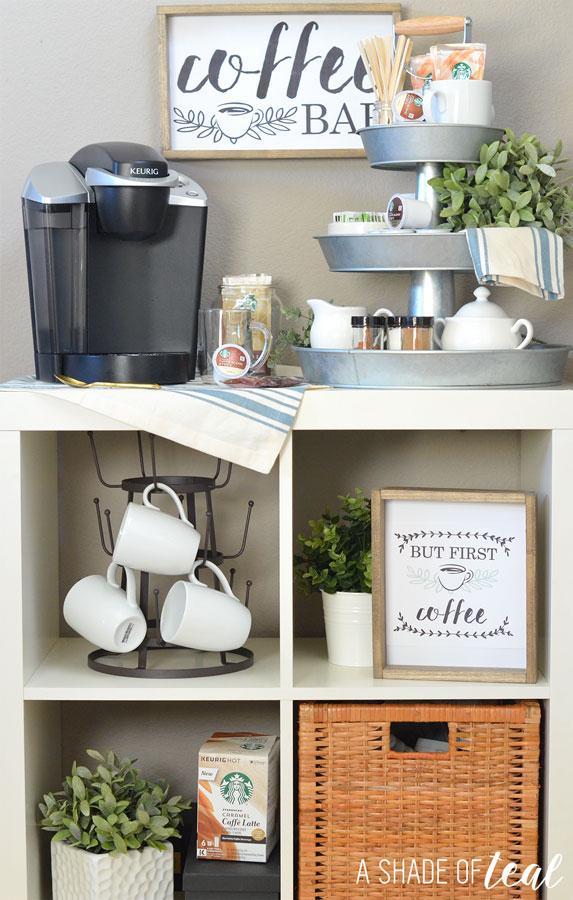 Photo Credit: Katy on ashadeofteal.com
If your space is limited horizontally, you can get inspiration from this coffee bar setup. Instead of taking up room on top, mugs live in a cubby. Organize your condiments in a three-tier stand like this one to free up even more space without sacrificing any coffee customization options. Seasonal decor can be easily incorporated into this design.
7. Eclectic Coffee/Espresso Drawer Idea
Photo Credit: Rocketespresso on Instagram
Mix and match big colors and bold textures to achieve an eclectic effect for your coffee (or espresso) bar. This is a creative way to refurbish furniture and can be customized to vibe with your style. The coffee bar table is one piece of the puzzle — what condiment tray, shelves, and mugs will you use for your coffee bar?
8. Gray Glass & Burlap Coffee Table Bar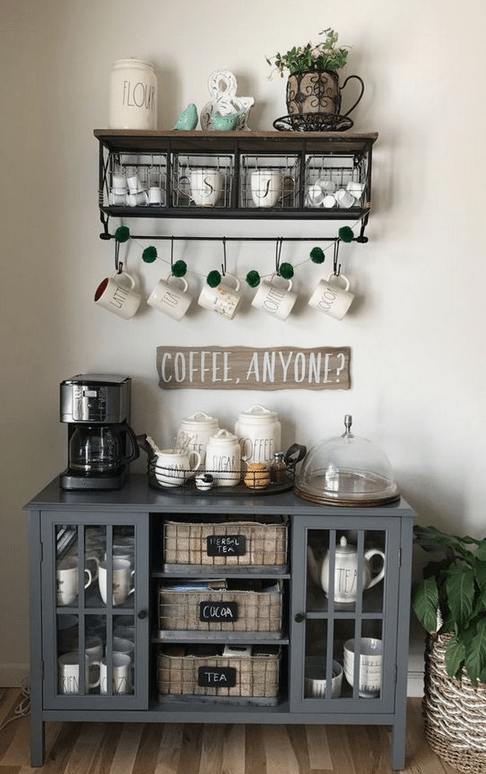 Photo Credit: Leann Lovett on Pinterest
Including a domed cake plate in your coffee bar is an excellent idea if you plan to offer baked goods to go with your coffee. This coffee bar is a farmhouse-style vision in gray, black, and white. Green accents and burlap help add warmth to this coffee bar. While this plant looks attractive, consider using a vining plant to help bring cohesion to all the layers.
9. Halloween Themed Coffee Bar IdeA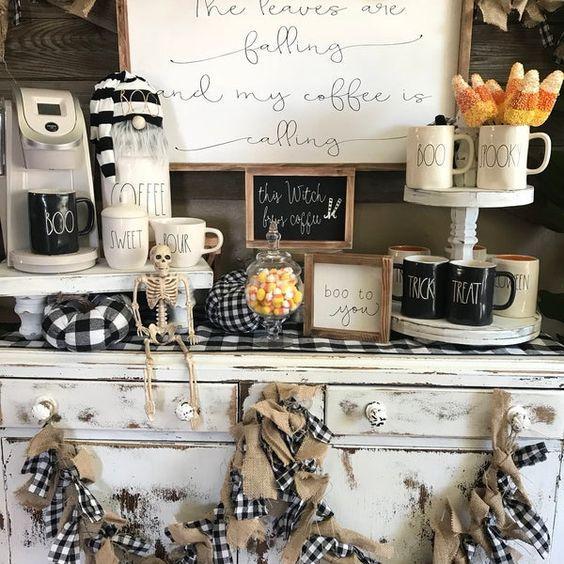 An easy way to upgrade a coffee bar is to invest in mugs with personality. A handmade mug with an inspiring message or a stunning glaze adds a great deal of character. There are so many options that it can be difficult to choose. Luckily, you can mix and match or even work with a ceramic artist to make a set that is perfect for your coffee bar.
10. Floating Shelf Coffee Bar Table idea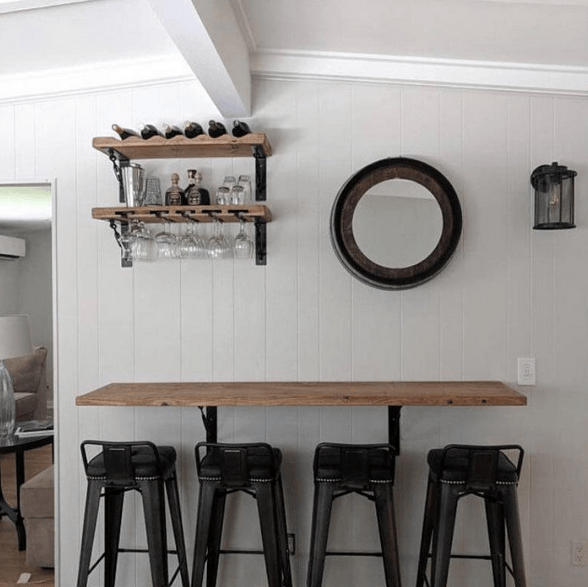 Photo Credit: Designbyronders on Etsy
Maybe you do not have room for a cabinet or perhaps all your counter space is in use. Some ideas to transform a shelf into a coffee bar might be to add some baskets for condiments, shelving to hold mugs, and, of course, the coffeemaker. If your coffeemaker is electrical, you will need to locate the coffee bar near an outlet.
11. Tiered Fall Tray for Coffee & Conversation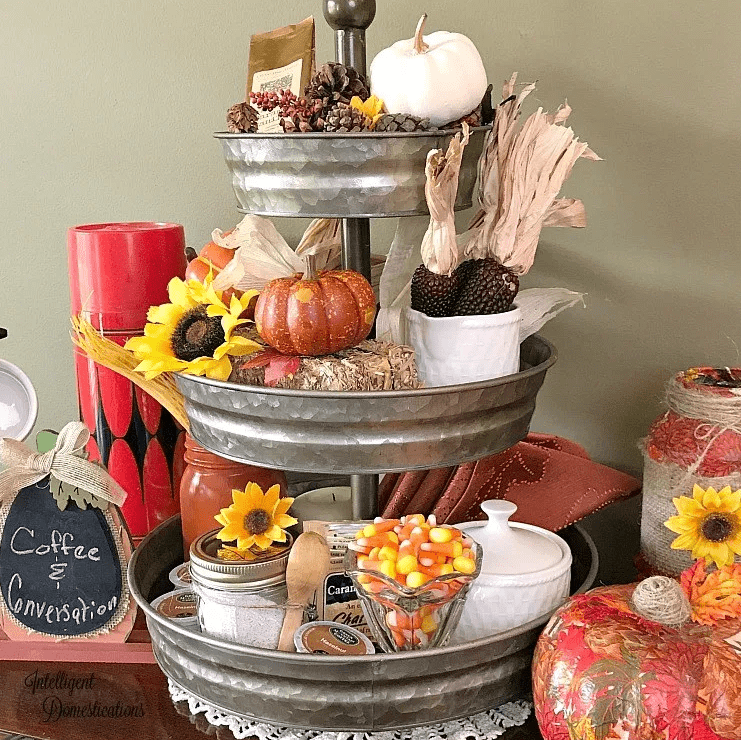 Photo Credit: Shirley on intelligentdomestications.com
Pumpkins and sunflowers combine to make a beautiful fall-themed coffee bar. While the coffee bar table itself is a classic piece, the galvanized steel three-tiered tray and orange mason jars give some rustic flair. White textured mugs add just a touch of visual interest without being overwhelming.
12. Minimalist Black & Silver Espresso Bar
Photo Credit: Becki and Chris on beckiandchris.com
The limited color palette puts emphasis on geometric shapes and the textures of all the materials. In true minimalist fashion, this setup is succinct: it says exactly what it needs to with no extras. To achieve this feel, focus on removing anything extra. In addition to being practical, the open shelf allows for dramatic display of each brewing method.
13. Festive Christmas Coffee Gathering Area
Photo Credit: Kim Kramer on Pinterest
String lights are an affordable way to give a coffee bar table a big burst of festive cheer. The lights in this idea are red, which are perfect for Christmas, Valentine's Day, or Fourth of July. However, white string lights will work all year long. In this design, the lights and greenery work together to make the coffee bar the focal point of the space.
14. Fun Reclaimed Armoire Coffee Bar
Photo Credit: Mer edes Nelson on Pinterest
A repurposed armoire can make an adorable coffee bar that is bound to be a conversation piece. Geometric elements like the lampshade and vase give it a modern feel. To make it fit into a more industrial-themed space, consider painting the reclaimed armoire black and using metallic accents. If you brew coffee electronically, it does need to go next to an outlet.
15. Simple Farmhouse Coffee Bar with Mini-Fridge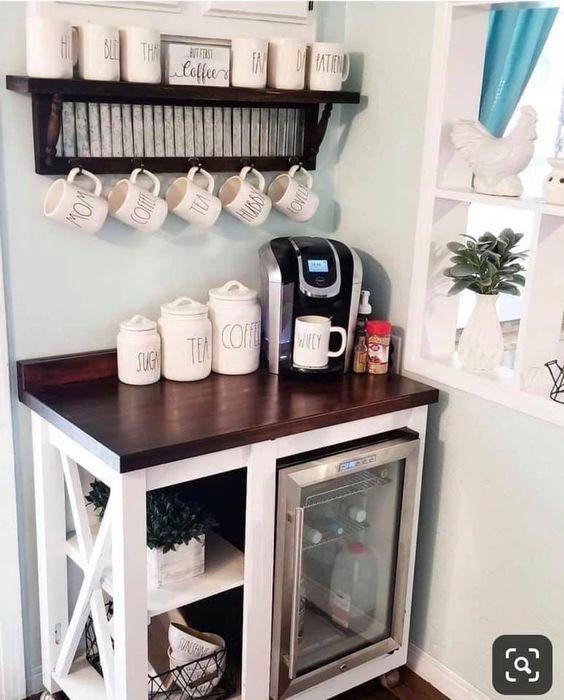 Photo Credit: Alissa Judge on Pinterest
Many coffee drinkers prefer refrigerated dairy creamer to shelf-stable coffee creamer. That means the ultimate coffee bar needs a mini-fridge. Incorporating a refrigerator is easier than you may think — this idea tucks it under the counter. To tie in the stainless steel refrigerator, the shelf incorporates a corrugated steel band.
16. Farmhouse Corner Coffee Bar
Photo Credit: IndyVintageBohotique on Etsy
It can be tricky to position a coffee bar in the corner. Wavy edges and warm lighting soften this cabinet and give it a decorative flair. Upper and lower shelving offers plenty of space for condiments. However, this idea may not work for your coffee bar if you have a large espresso machine or a plethora of condiments.
17. Farmhouse Coffee Bar with Copper Accents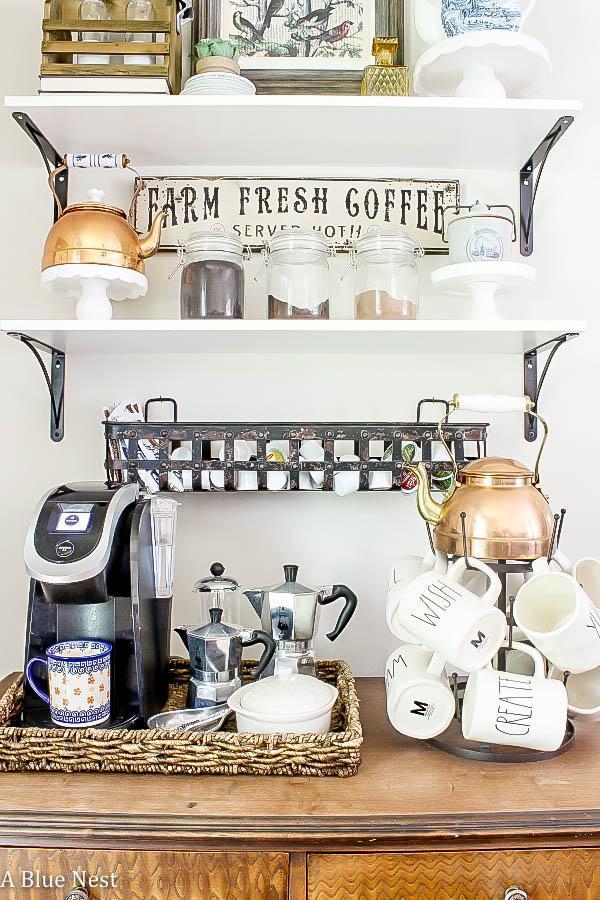 Photo Credit: Jordan on abluenest.com
As a versatile accent, copper is used in this idea to add warmth and variety. Using a basket is a creative way to contain coffee bar contents that can quickly become messy and cluttered. Condiments are confined in a black metal basket — another way to keep a countertop tidy. Glass jars are an attractive way to display coffee beans or hot chocolate.
18. Neutral Coffee Bar Table with Cotton Wreath
Photo Credit: Kirsten Santos on Pinterest
Because neutrals dominate this coffee bar, it blends into any existing decor. A cotton-boll wreath hanging on a reclaimed window frame adds some extra farmhouse charm. If you need some ideas for extra mug storage, this idea uses both metal hooks and decorative wood shelving.
19. Summertime Coffee Bar Concept with Fresh Flowers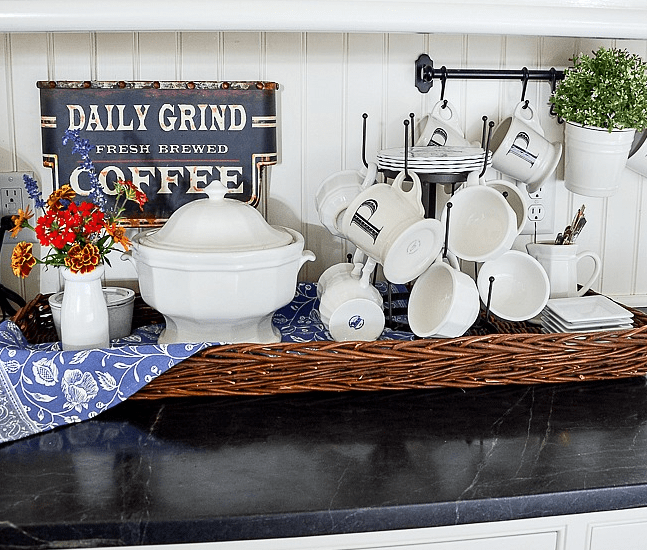 Photo Credit: Yvonne Pratt on stonegableblog.com
If you have a countertop coffee bar, you know how quickly the condiments can get out of hand. This brown wicker basket contrasts beautifully with the crisp blue and white fabric. Add some fresh flowers, and this coffee bar is the perfect summertime haven. Of course, it would be easy to customize to your kitchen's decor theme or to change seasonally.
20. Coffee on the Beach!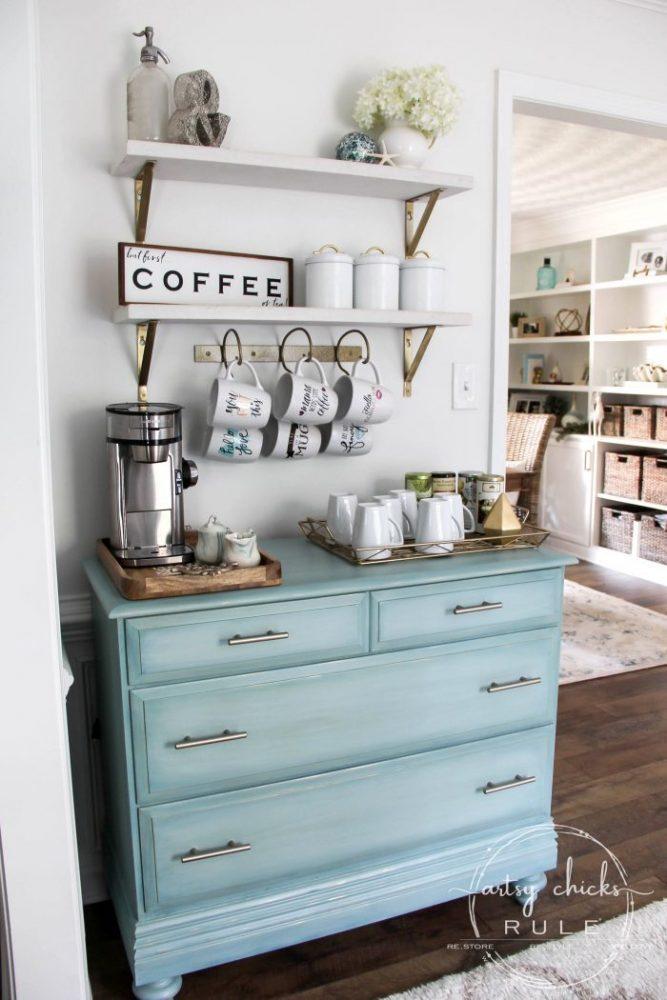 Photo Credit: Nancy on artsychicksrule.com
A beach-themed coffee bar is not too good to be true. It is as easy as painting an old dresser aqua, installing some shelving, and adding some beach-themed decorations. This idea uses a geometric tray and metallic hardware for a more modern look. To achieve a rustic beach-themed coffee bar, imagine incorporating driftwood or seashells.
21. Unique Coffee Bar Cabinet from Reclaimed Wood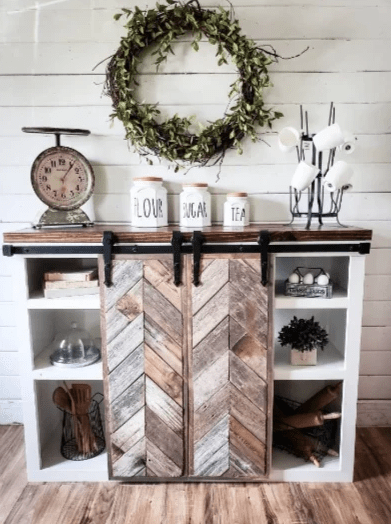 Photo Credit: John and Jacki on savvyfarmhouse.com
As the star of this coffee bar, the barn doors are made from reclaimed wood. While this would take some extra time and effort to craft yourself, the effect is visually appealing. Try an old-fashioned distressed scale like this one if a sleek, digital scale would not complement your space.
22. Springtime Natural Coffee Bar
Photo Credit: Anna King on makinghomematter.co.uk
A fresh palette of bright green, natural wood, crisp white, and classic black makes this coffee bar shelving idea visually striking. Leaving the wood unfinished with some original stamps gives it a lot of character and adds some visual interest. Using a vining plant creates a lush environment that is perfect for that first cup of coffee in the morning.
23. Modern Coffee Bar in Stripes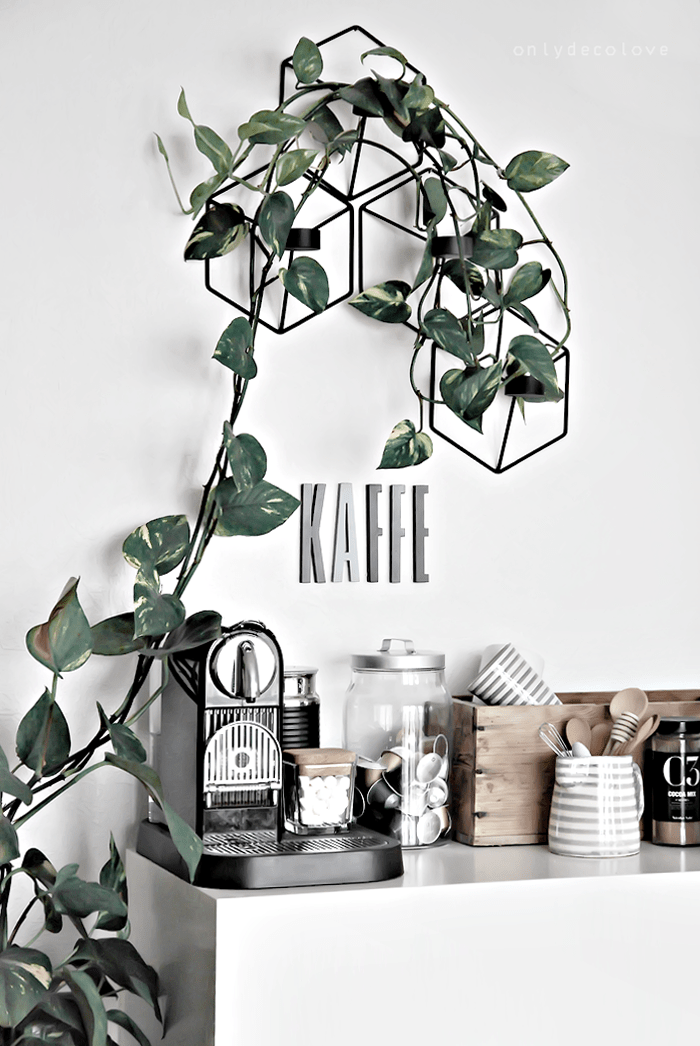 Photo Credit: Katerina Dima on onlydecolove.com
Focus on geometric shapes and a cool color palette give this coffee bar a modern, almost noir feel. An organic way to define the coffee bar space, the plant has been trained to vine on the geometric wall hanging. Silver san serif letters emphasize what the space is for while complementing the silver-striped mugs. To increase mug storage, a black metal shelf could be installed.
24. Repurposed Aqua Armoire with Dual Pendant Lights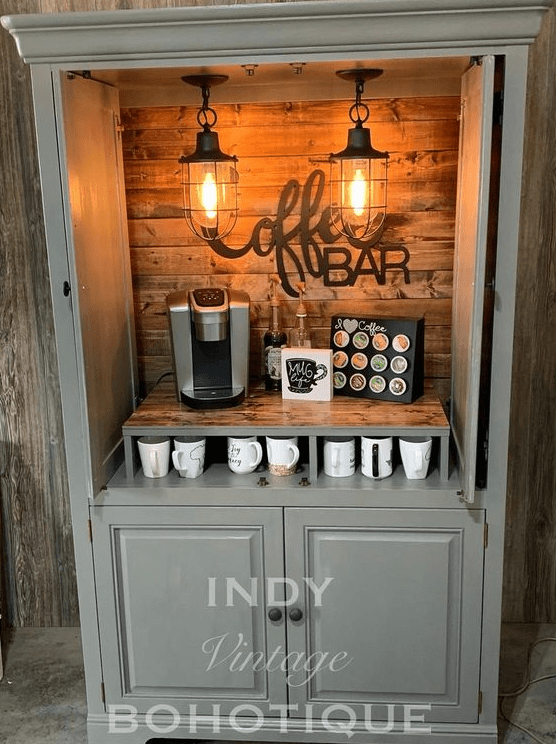 Photo Credit: Indy Vintage Boutique on Etsy
Lighting is very important to consider when building your coffee bar. This idea uses two geometric pendant lights to create a welcoming environment. This much light also draws the eye to make the coffee bar one of the room's focal points. Pendant lights are especially helpful because they do not take up any valuable counter space.
25. Antique Stove Coffee Bar
Photo Credit: Amy on smilesinthetrials.wordpress.com
If you are looking for unique coffee bar ideas, check out this one made from a 1950 cook-stove. The green stove is complemented with green books, vintage candlestick holders and some plants. Adding books is a quick way to add sophistication to any coffee bar. You get bonus points if they are related to coffee!
26. Wooden Heart for Mug Storage
Photo Credit: Donna on funkyjunkinteriors.net
Building shelving for yourself might be the most fun part of the entire designing-a-coffee-bar experience. You are able to choose the touches that will make it special. In this tutorial, different hooks are used to give some variety and to help make your space interesting. While the heart idea is adorable, think of the possibilities — any wood sign can be the perfect home for more mugs!
27. Pallet Shelf Coffee Bar Project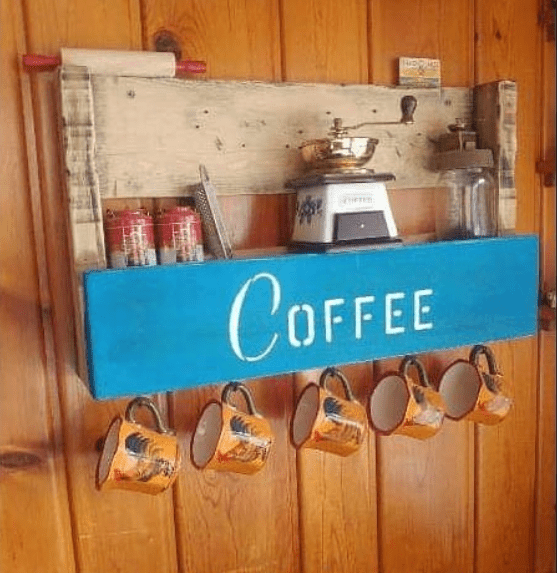 Photo Credit: Whiskey_river_wood on Instagram
Repurposing pallets is a popular way to make fully customized rustic decor. This caddy-style shelf would look at home in a farmhouse or rustic coffee bar. Stenciled letters give this shelf a mid-century modern appeal. One practical touch is the ability to hang mugs from this shelf, as it frees up counter space.
28. Low-Key Rustic Coffee Bar with Mini-Fridge
Photo Credit: Hailey Heikkila on Pinterest
Even though a large espresso machine and a refrigerator are included, this coffee bar feels open and uncluttered. To achieve this effect, remember to use negative space and to leave plenty of counter space free. Small vining plants create a green waterfall effect to help direct the eye to the most important part of the coffee bar: the coffee makers.
29. Affordable Coffee Mug Shelf Project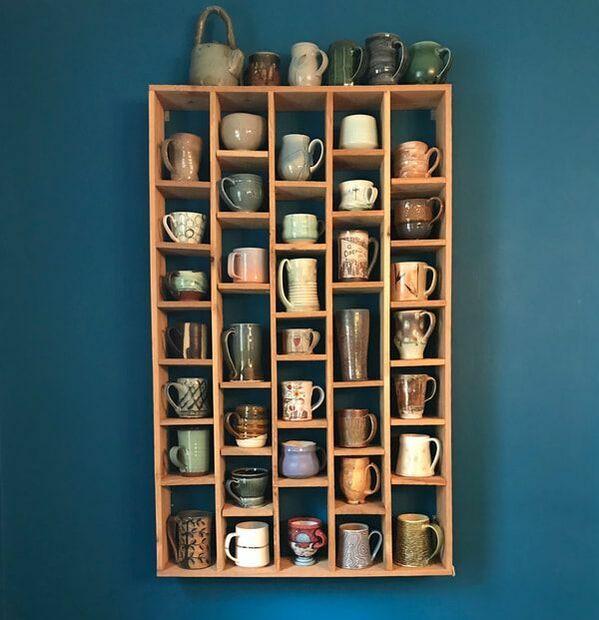 Photo Credit: Ryan on ryandurbinceramics.com
Mug storage: one of the biggest conundrums of a coffee bar. Instead of risking chips or broken mugs in a basket, you could install a shelf like this next to your coffee station. You do not need to fill the entire shelf up with mugs. Imagine putting decorations, flowers, or coffee beans in some of the cubbies. This shelf is a quick project that can elevate your space!
30. Cute Coffee Bar for Small Spaces
Photo Credit: Katie on madetobeamomma.com
For those designing coffee bars in small spaces, finding room and building a coffee bar with personality can be a challenge. The whimsical straws and distressed mug holder give this cute coffee corner plenty of character. If you wanted a tidier look, you could install the mug hooks in a grid pattern instead of this organic pattern.
31. Easy-To-Assemble Coffee Bar Station
Photo Credit: Bonnie Robertson on Pinterest
Building a coffee bar in your space really can be as easy as assembling a table runner, mug tree, tray, and your coffee maker(s). If you are looking for a temporary coffee bar for a holiday or house guests, this is a great idea. The wood tray contains all the condiments and the mug tree can hold plenty of mugs.
32. Simple Black & Wood Coffee Bar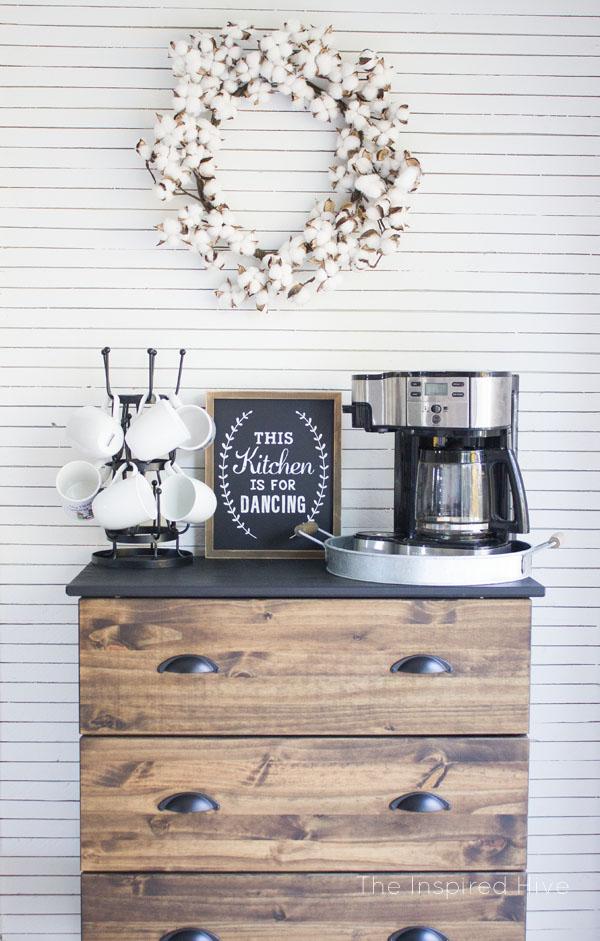 Photo Credit: Nicole on theinspiredhive.com
Sometimes, less really is more. This small dresser is able to hold everything you need for a really cute coffee bar: a coffee maker, mugs, and some coffee signage. A metal tray helps the stainless steel coffee maker blend into the decor. The cotton wreath incorporates white and brown and helps tie the entire piece together.
33. Disney Coffee Bar Inspiration
Photo Credit: Dahlia Gamal on Pinterest
What better way to wake up than sip a cup of coffee and think about the magic of Disney. Wall decals and the iconic mouse-ears silhouette help make this coffee corner into a happy place. Adding a mouse-ears silhouette to the condiments, like the cream and sugar in this example, is an easy way to add a little enchantment to your coffee bar.
34. Glam Gold & White Coffee Bar Set Up
Photo Credit: The Decor Diet on liketoknow.it
If your style is a little less rustic and a little more glamorous, this coffee bar idea is for you. A color palette consisting only of pristine white and glitzy gold makes this coffee bar a striking addition to any home. If gold is a little too much for you, consider using copper or bronze as an accent.
35. Coffee Bean Station Decor With Different Coffee Flavors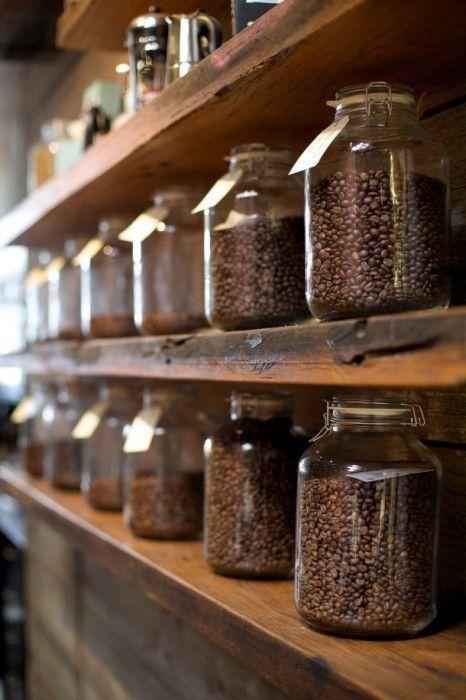 Photo Credit: Guy Lavoipierre on espressomelbourne.com
Coffee beans can be used as an eye-catching design element. After all, what could be better at communicating that a space is for making coffee than displaying whole coffee beans? Using textureless glass jars is a functional way to display whole coffee beans. While not everyone's coffee routine involves grinding whole beans, coffee beans on a shelf can help create that coffee-shop ambiance.
36.Gorgeous Artistic Coffee Bar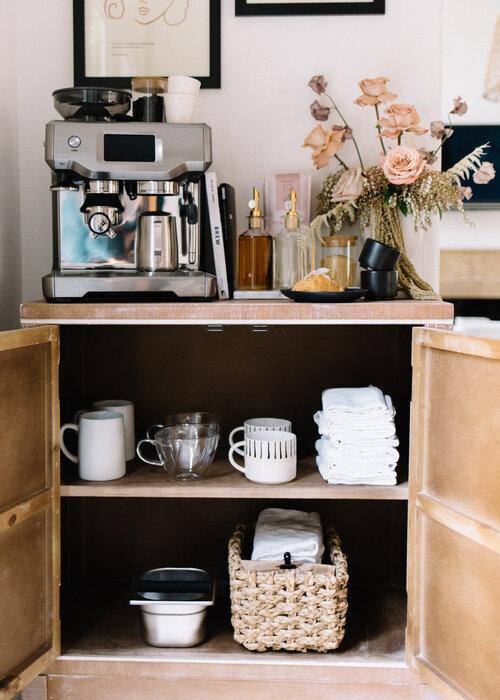 Photo Credit: Kimi Domino on afabulousfete.com
Create a posh coffee bar by combining framed art, books, and a floral bouquet. The striped coffee bar cabinet adds some personality and ties the roses into the ensemble. Instead of using a basket, this coffee bar uses a white marble slab to define the space for the condiments. Use your favorite art and a seasonal bouquet to transform your coffee bar into a relaxing and enjoyable space.
37. Coffee on Wheels!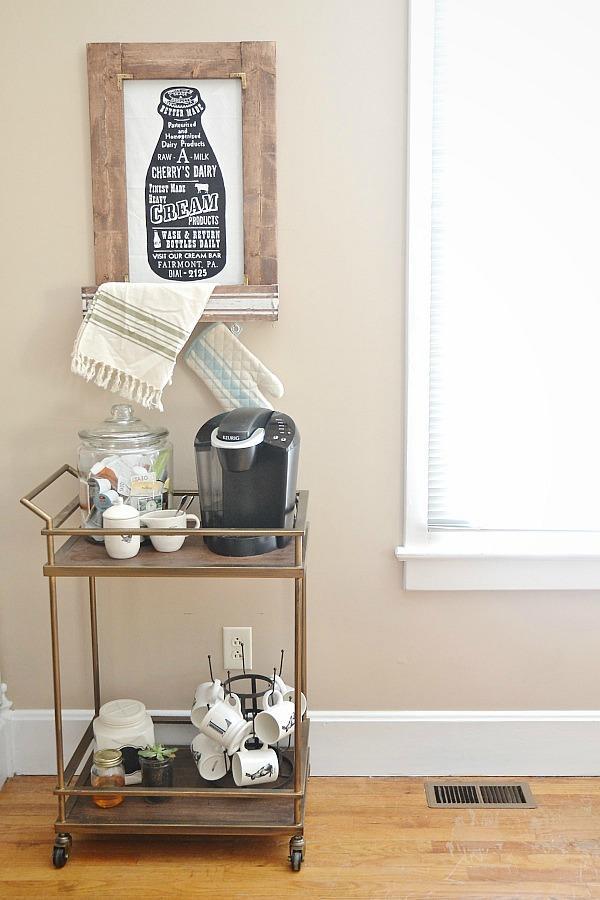 Photo Credit: Liz Marie on lizmarieblog.com
If committing to a big piece of stationary furniture is too much right now, consider assembling a coffee bar on wheels. You can either use a cart or install castor wheels on some larger pieces of furniture. Load up the top and bottom of the cart with the necessities for your coffee routine.
38. Patriotic Coffee Bar
Photo Credit: Mornings_On_Macedonia on Instagram
Creating your own patriotic coffee bar is as simple as using a red, white, blue, and neautral color palette. Whimsical pom-poms are a fun touch. The vintage potato chip tin adds some character. If you already have red-themed decoration for Christmas or Valentine's Day, it could be reused for the Fourth of July.
39. Hideaway Coffee Bar
Photo Credit: Sarah Elliott on eye-swoon.com
Marble and blonde wood make a statement in this well-organized coffee bar idea. If you like to switch up your coffee routine, this coffee bar includes plenty of space for alternate brewing methods. To help cut down on the clutter, coffee trappings are stored in three drawers. Because it is located in a closet, this coffee bar gives you the opportunity to decide whether or not it is on display.
40. Modern European Coffee Bar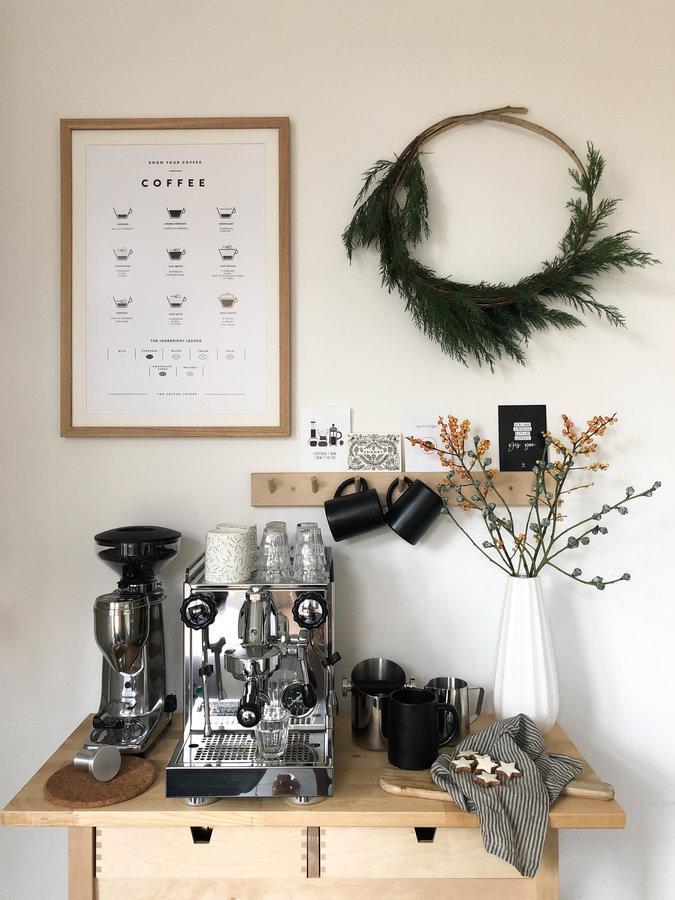 Photo Credit: Ulli S. on solebich.de
Maybe you are after a modern, European feel for your coffee bar. Shiny stainless steel and rich greenery steal the show in this design. Blonde wood and solid black mugs accent the other design elements. To achieve this effect, focus highlighting the dichotomy between shiny metal and organic plant. When staging your coffee bar, including some cookies is never a bad idea.
41. Inspiration for Condiment Display
Photo Credit: Angie on decorhomeideas.com
A wide variety of condiments is one of the best parts of having a dedicated coffee bar! Using matching shakers for powder additives is an excellent idea to give your favorite condiments an attractive appearance. Considering the functionality of your containers is important as well. While the marshmallows look attractive in the glass jar, they would need airtight storage to stay fresh.
42. Surprise Coffee Bar in Blue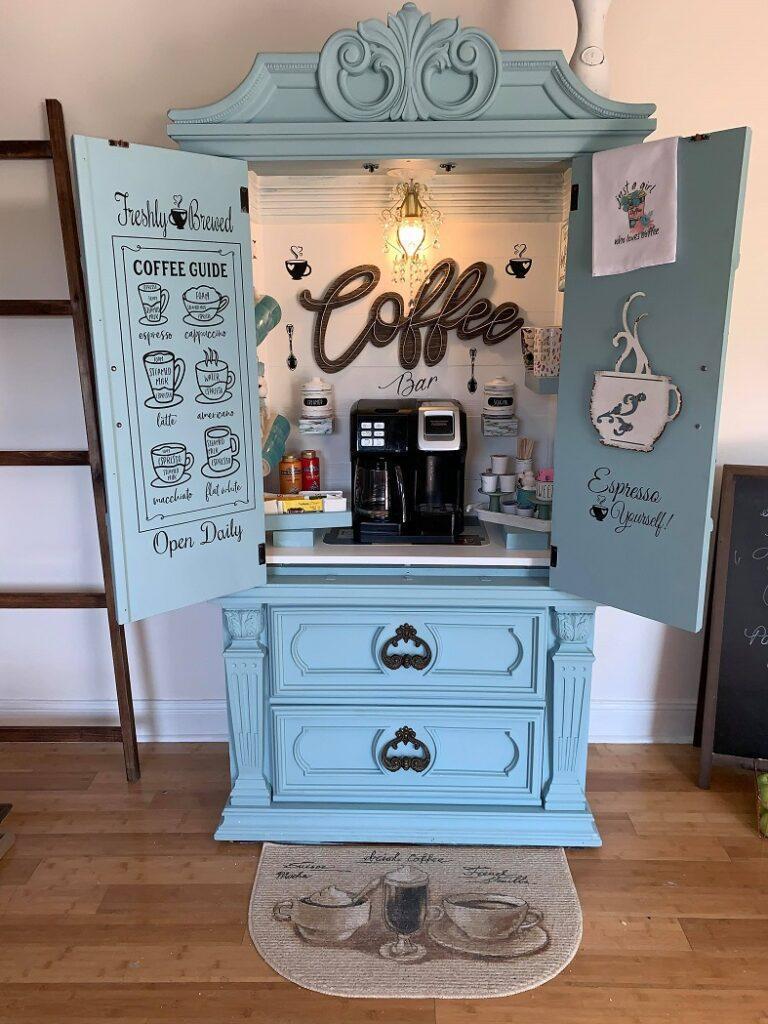 Photo Credit: April Dickey on thehappyfarmhouse.com
Like Clark Kent, this repurposed armoire has a secret superhero identity. When the doors are opened, coffee-themed vinyl decals and a cursive "Coffee" sign let you know that the party is about to begin. The fun chandelier-style light makes it feel like you have opened the door to another world and really sets the space apart. Small shelves make the most of the small space.
43. Thanksgiving Coffee Bar Table
Photo Credit: remingtonranchfarmhouse on Instagram
Warm and welcoming, this coffee bar uses calming white, neutral colors, and wood cohesively for a rustic vibe. The creative metal "thankful" phrase takes center stage alongside the vintage stand and aged wood. The overall setup is simple – a two tiered reclaimed wood shelf decorated with gorgeous pitchers and mugs.
44. Scandinavian Coffee Bar
Photo Credit: u/AJTSin on Reddit
Black coffee accouterments stand out as the focal point in this Scandinavian-themed coffee bar. If you are not ready to switch coffee-making equipment but want a coffee bar with this feel, consider hiding your machine(s) in a blonde wood cabinet. If you need more mug storage, you could install pale wood floating shelves above the coffee shelf.
45. Coffee/Wine Bar
Photo Credit: Rachel Chirinos on Pinterest
This is the ultimate coffee bar: coffee for the morning and wine for the evening. The metal cubbies are a great way to hold all your favorite coffee condiments. This combination coffee bar/wine bar can easily be tweaked to fit seamlessly with your home décor style. Switch up the paint color and shelving material for a different look.
No matter how you classify your style, there are plenty of ways to approach upgrading your coffee-making space. Whether you enjoy a cup of coffee or whether you are preparing a coffee bar for guests, a coffee bar is a wonderful way for you to express your unique style.