This post may contain affiliate links. See affiliate disclosure here.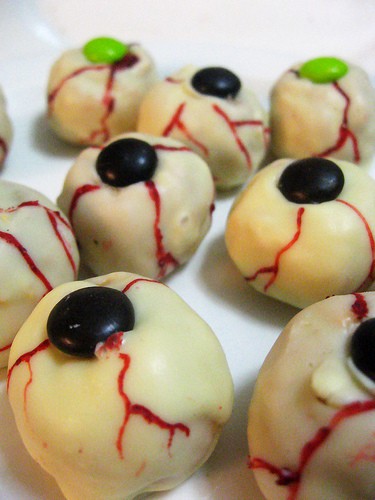 If you are looking for a great recipe for that next kids Halloween party why not try making a batch of bloody eyeballs.
They are quite disgusting looking which means kids will love them and they taste pretty good as well. Here is a simple recipe that you can try.
Bloody Eyeball Peanut Butter Halloween Cookies
Ingredients:
1 Cup creamy peanut butter
3T Butter
2Cups powdered sugar
2 to 3 cups white chocolate chips
1 small tube of red icing or editable colored marker for cookies.
1 small pack of plain M and M's (sort out the blue, green, and light and dark chocolate m and m's and save)
Directions:
Using a large bowl beat together the butter and peanut butter. Once that is smooth and creamy beat in the powder sugar and shape into balls (about 1 inch)
Place balls on a cookie sheet that has been covered in wax paper and freeze cookies for about an hour.
Fill a large sauce pan about ½ way with water. Turn on the heat. Place white chocolate chips in a slightly smaller sauce pan and place in the pan of water (make sure that no water gets in your chocolate chips) melt chocolate stirring continually until smooth and creamy.
Remove cookies from freezer and using tooth pick dip into white chocolate and let excess drip off. Set back on cookie sheet. Place one m and m in the center of each eyeball to form a pupil.
Set the cookie sheet back in the refrigerator for 5-10 minutes to give the chocolate a chance to cool and then use the red frosting in the tube to make blood shot eye effects on each cookie. Refrigerate until ready to serve.
Kids and adult alike love these gruesome peanut butter cookies and who can blame them they are perfect for Halloween.