Ah, the Super Bowl! My favorite sports party day in February! The excitement in the air, the friends and family, the drinks, the food, and of course the funny commercials. Wait… sorry, I am almost forgot the actual game!!! Ok, well my team is not playing this year so I am just excited to party! And what's a party without some killer super bowl food!!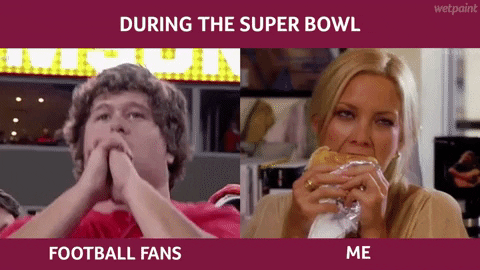 Below are the most amazing, most sought after super bowl food recipes of all time! Simple dishes like Jalapeno poppers, Taco Salad, Turkey Chili, Designer Pizza, and of course Football cupcakes! These potluck dishes are perfect for large gatherings and many can even be made the day before so you can pre-party for the actual party! Make it tasty, keep it simple, and feed the block!
Slow Cooker Buffalo Chicken Dip:
My aunt makes this dish at least 5 times a year and is her potluck staple. Its super simple and totally delicious! Recipe below makes 20 servings. Feel free to double the recipe and make enough for 40 servings or more.
Ingredients:
2 cups cooked shredded chicken (2 10z cans of chicken works as well)
2 (8 ounce) packages cream cheese, softened
1 cup Ranch dressing
3/4 cup hot sauce (such as Frank's Red Hot Sauce!!)
1 1/2 cups shredded Cheddar cheese
1 bunch celery, cleaned and cut into 4 inch pieces for dipping
Tortilla chips or soft baguette for dipping
Directions:
Heat chicken and hot sauce in a skillet over medium until heated and mixed well. Stir in cream cheese and ranch dressing. Cook, stirring until well blended. Mix in half of the shredded cheese, and allow to melt. Transfer the mixture to a slow cooker. Sprinkle the remaining cheese over the top, cover, and cook on low setting until hot and bubbly. Serve up with celery sticks, chips or bread. You can sprinkle diced green onions on top if you like a little extra flavor.
Jalapeno Poppers
I love spicy foods but the trick to making the best jalapeno poppers is to cook them just long enough so they are crispy but not wilted and of course, add bacon! I will actually sometimes spice it up a bit more by adding chopped jalapeno in with the cream cheese and a dash of hot sauce.
Check out this ridiculously easy Jalapeño popper recipe from Inspired Taste. They give you a lot of alternatives to try out as well! We love to experiment with our recipes.
Easy Spinach Dip
This is a staple at many parties and for good reason. Its totally addicting! Something about the cool creamy base mixed with different textures and flavors make this a dish that's always welcome. Recipe makes about 16 servings or so.
Ingredients:
1 Package (10 oz) frozen chopped spinach
1 cup mayonnaise
2 cups sour cream or Greek yogurt
1 package dry vegetable soup mix 1.4 oz (knorr or lipton are good)
8 oz canned water chestnuts, drained
3-4 green onions chopped
Directions:
Defrost spinach overnight in the fridge or in the microwave. Squeeze out any liquids till dry.
Mix all wet ingredients together well in a bowl. Add the soup mix and stir well.
Chop water chestnuts and green onions. Mix into bowl.
Place in refrigerator for a minimum of 2 hours. Can be made the night before
Serve with bread, crackers or veggies for dipping.
Superbowl Cake
Uhm, who doesn't like cake?!? We have this tradition at my house that the desserts only come out at half time. So while everyone is busy watching the commercials and Beyonce shake it on stage, we sneak the desserts onto the table. One by one people start to take notice and come running. Cake is always a fan favorite.
Check out this awesome and simple recipe for Super Bowl Cake from the DIY Lighthouse! Even if you don't have mad kitchen skills, you can still make this super bowl food amazingly easy! And so adorable right?!!
Pigs in a Blanket
Most likely we all have fond memories of fun holiday appetizers like pigs in a blanket. I can remember when I was young playing with the "piggys" on more than one occasion. I mean, they had to go to the market err… my stomach after all!
This simple appetizer is a great crowd pleaser for kids and adults. Class them up with some special bacon jam or honey mustard dipping sauce. Or just leave out the ketchup and let the fans choose their picks.
You can make these little pigs wrapped up in many different kinds of dough but by far the easiest is using crescent rolls. Could not be much easier!
Honey BBQ Chicken Wings
Good old fashioned chicken wings have been a football food for so many years now, they are the reason Hooter's is so popular right?! Well, these honey BBQ wings are my son's favorite and he honestly asks for them weekly. I am happy to make them and even happier that they are baked and not fried.
The recipe I use is very easy and I actually just eyeball a lot of the ingredients. I have used different types of BBQ sauce and hot sauce and the right combinations win every time. Grab this super simple recipe here and serve up a nice basket of these lip smacking, finger licking chicken wings.
Taco Salad
Everybody loves a good taco salad! Men, kids, women alike are happy to eat their veggies in this amazingly tasty taco salad. So fresh and creative.
This taco salad is a fan favorite. I like to use lots of fresh ingredients which gives it such a colorful appeal. Of course when you add the Doritos it suddenly becomes the kids favorite meal. Alyona's Cooking has a simple recipe that also shows you how to set up a taco salad bar if you prefer not to mix it all together yourself! Its the perfect Super bowl food for even picky eaters.
Broccoli Cheese Soup
A hearty soup on a cold snowy day is the best ever! And if you are in the Midwest or East coast this weekend, then prayers to you and stay warm!! My family in Chicago is at -9 and with the wind chill its about -33! This soup will bring a bit of warmth back in I hope. Its also a very hearty soup that makes a great meal in itself.
I am a bit of a soup snob. I love split pea and have so much fun practicing and testing out new soup recipes. Panera Bread has some of the most delicious soups I've tried from a restaurant. This recipe is a copy cat of Panera's and tastes so much like it! I love that I can make it myself at home. Find the recipe from Cook the Story here.

Amazing Turkey Chili
A good chili is a necessity on Super Bowl Sunday! Its a total staple on the table every year. Some people use the chili as a dip, some put it on their taco salad, others eat it straight with cheese and sour cream. However you please, there is no wrong way to eat chili.
This Turkey Chili recipe is totally amazing- trust me!! It has the perfect heat to it and the spices are what really brings all the flavors together. I like to cook my chili the night before and then re-heat the next day as the flavors have really come together well. Something about Chili the next day is totally drool worthy!
Football Cupcakes
Every year we try to find and make the funnest desserts for our half time special. I always find amazing treats and outrageously fancy baked goods that look super pinworthy, but I know that if I tried… it would be a total fail. These football cupcakes are simple and easy to make, and look totally perfect for our celebration without me having to stress over much! #Yum
Sarahs Bake Studio has all the coolest desserts. Seriously, I would love to her baking skills and honestly, there is not a single dessert there that isn't perfect!! Omg, mad skills for sure!
Designer Pizza
Making pizza is an art for many people. We love to make pizza in our house with the kids because it allows us some quality time while experimenting with all different types of foods. You can literally put anything on a pizza- like anything!!
We make what we call "Designer Pizzas" and we grab whatever fresh ingredients we have in the fridge, put them all out on the counter and add what we might like to try. And yea, we tried strawberry with pepperoni once even! Not as bad as you might think. We purchase pizza dough from our local grocery store so its a super simple process, but if you are a true foodie you can make it yourself! Recipes for 50 designer pizzas are here!
So there you have it! 10 super delicious and very simple super bowl food ideas you can try out this year. What are your favorite super bowl foods? Have a favorite recipe or tip, let us know!